Table of Contents
Knowing when remote teams work and when they don't is important to measure their productivity level. Tracking employee idle time has become vital in growing remote work today.
* What is Idle time
Employees not doing any key/mouse activity on the computer counts to idle time.
Monitoring workforce idle time in a remote environment has been challenging. Not anymore with wAnywhere as employee monitoring & time tracking software detects key/mouse activities of remote workers to determine when they are active/non-active on the computer.
Using wAnywhere remote employee monitoring software, you can define controls across the organization/department.
Let's Learn how to set wAnywhere employee time tracking software to detect the idle time of distributed workforce:
Configure idle time duration for remote workers
Define idle time duration (i.e., 10 min.) and trigger notification on remote employees exceeding the threshold.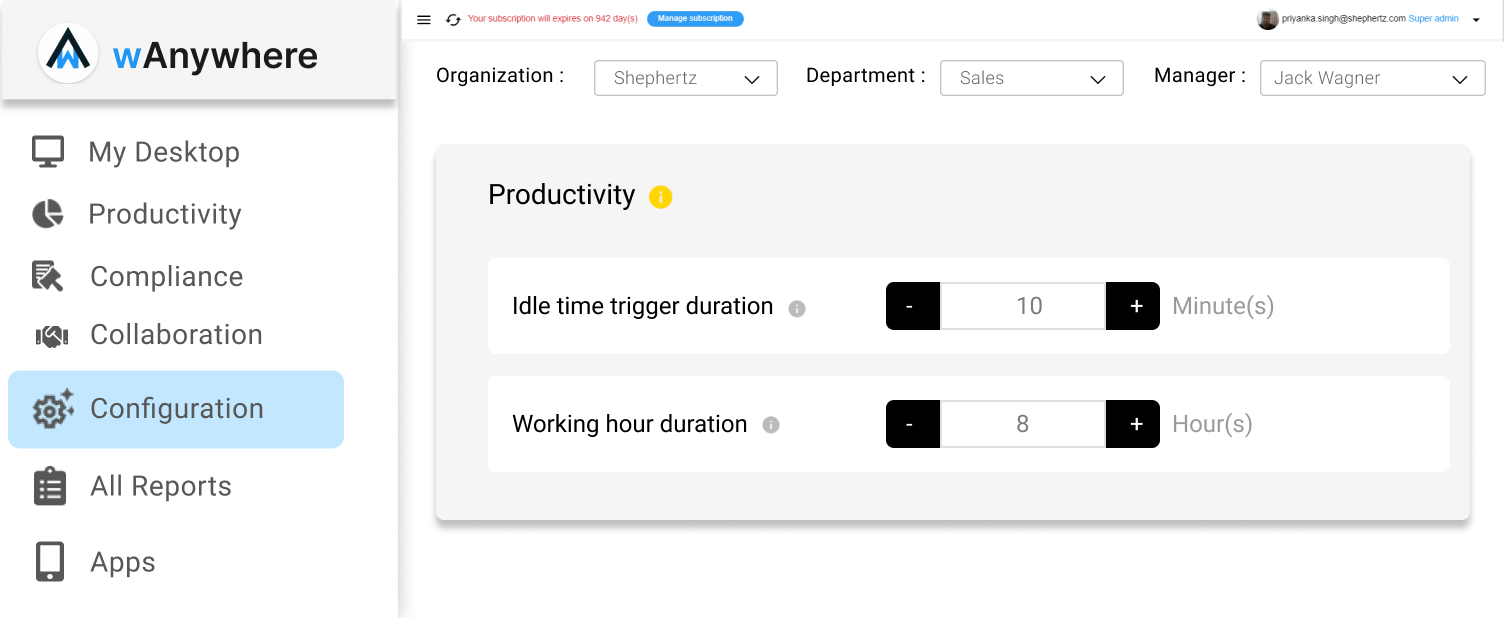 Visualization & Reporting
View the date-bound total idle time of remote workforce organization/department-wise.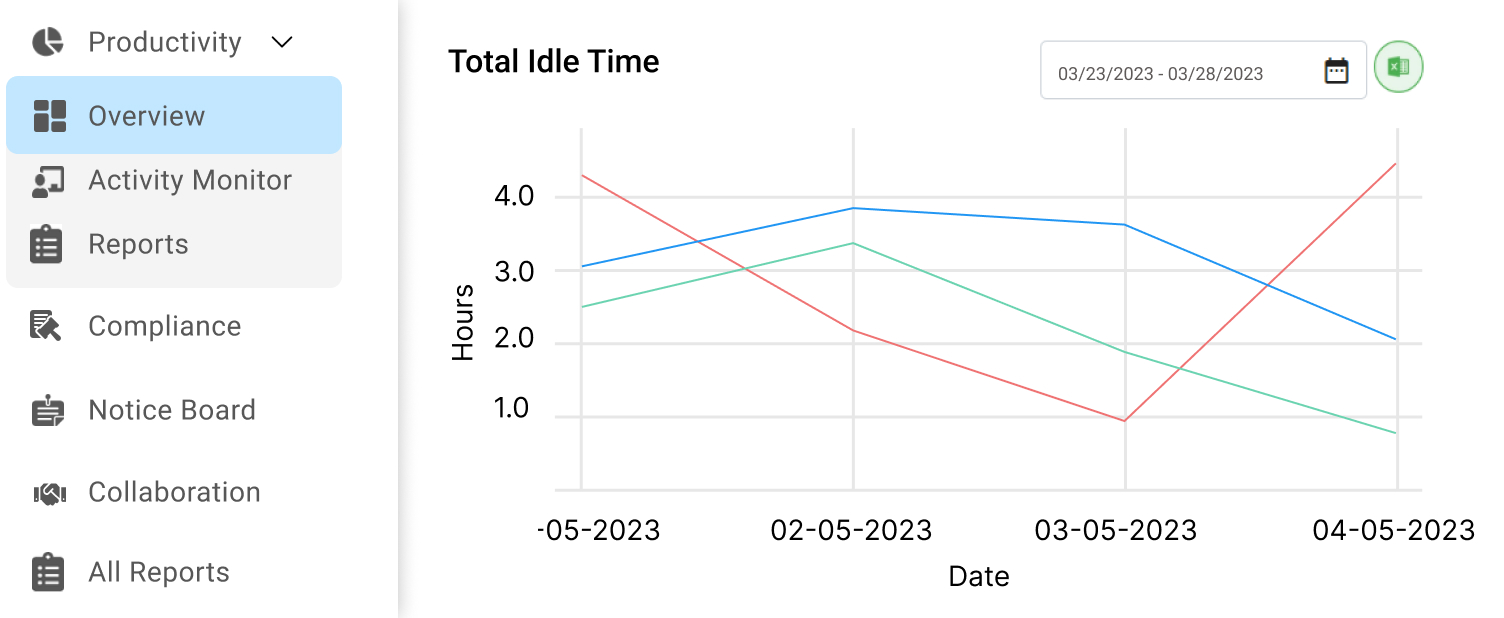 View/download idle time report of remote workers.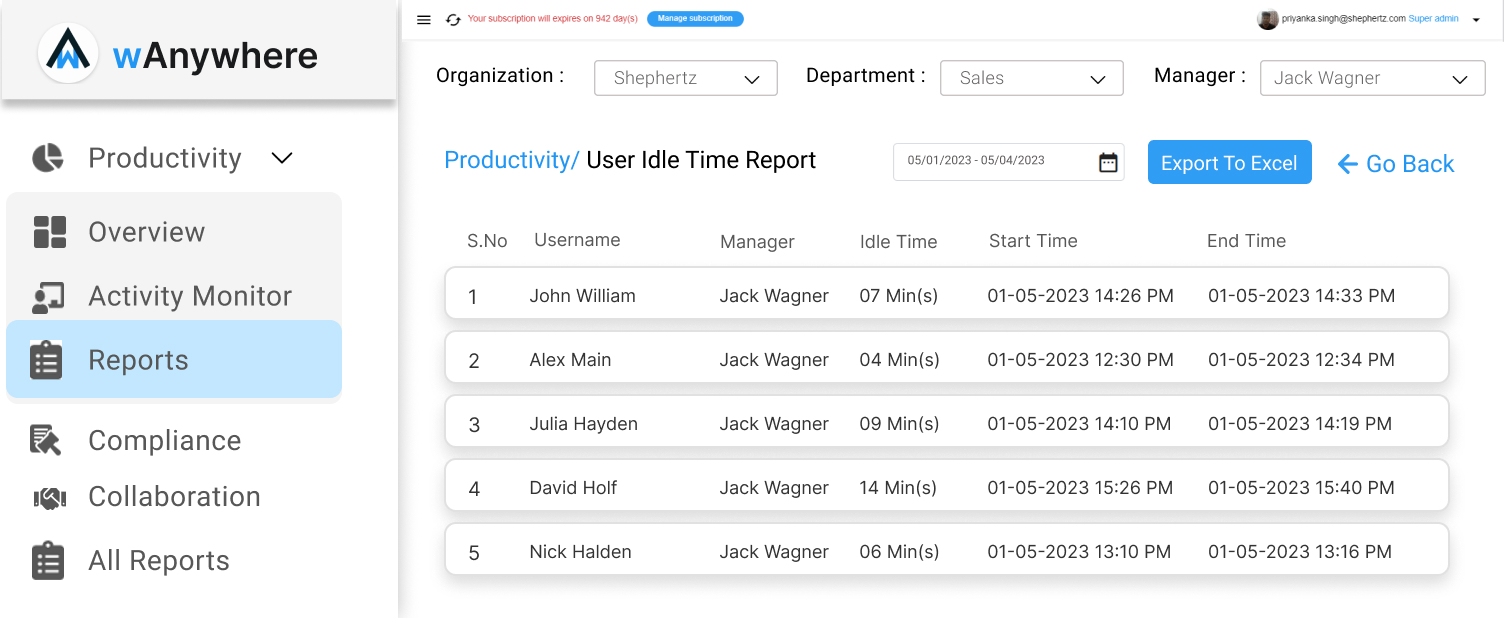 Read More: Aux time – Track work status of remote teams/BPO agents
Benefits of tracking remote employee idle time
Gain the following advantages from wAnywhere employee time tracking software:
Measure employee productivity in a remote environment
Data-driven smart wAnywhere dashboard enables you to monitor productive/unproductive hours of the remote workforce based on their idle time.
Calculate average productivity achieved by remote workers
Learn the average of remote/hybrid workforce idle time to calculate their non-work hours and impact on ongoing tasks/projects.
Detect employees' idle time to determine exact work/billable hours
Know the date-bound idle time of available employees at work and identify their exact work hours on any specific day to learn overall productivity & billable hours achieved that day.
Measure productive hours based on employee work hour summary
Know employees available on any work day and their actual productive hours. Also, view their break/idle time to identify the impact on actual work/productivity hours.
Monitor workforce hours to know how they spend time
View total hours of workforce to learn their productivity achieved on any work day. Also, see the idle time to know the impact on their total work hours/tasks in hand.
Let's discuss today your remote/hybrid workforce idle time monitoring needs and how you can gain benefits from employee time tracking software.