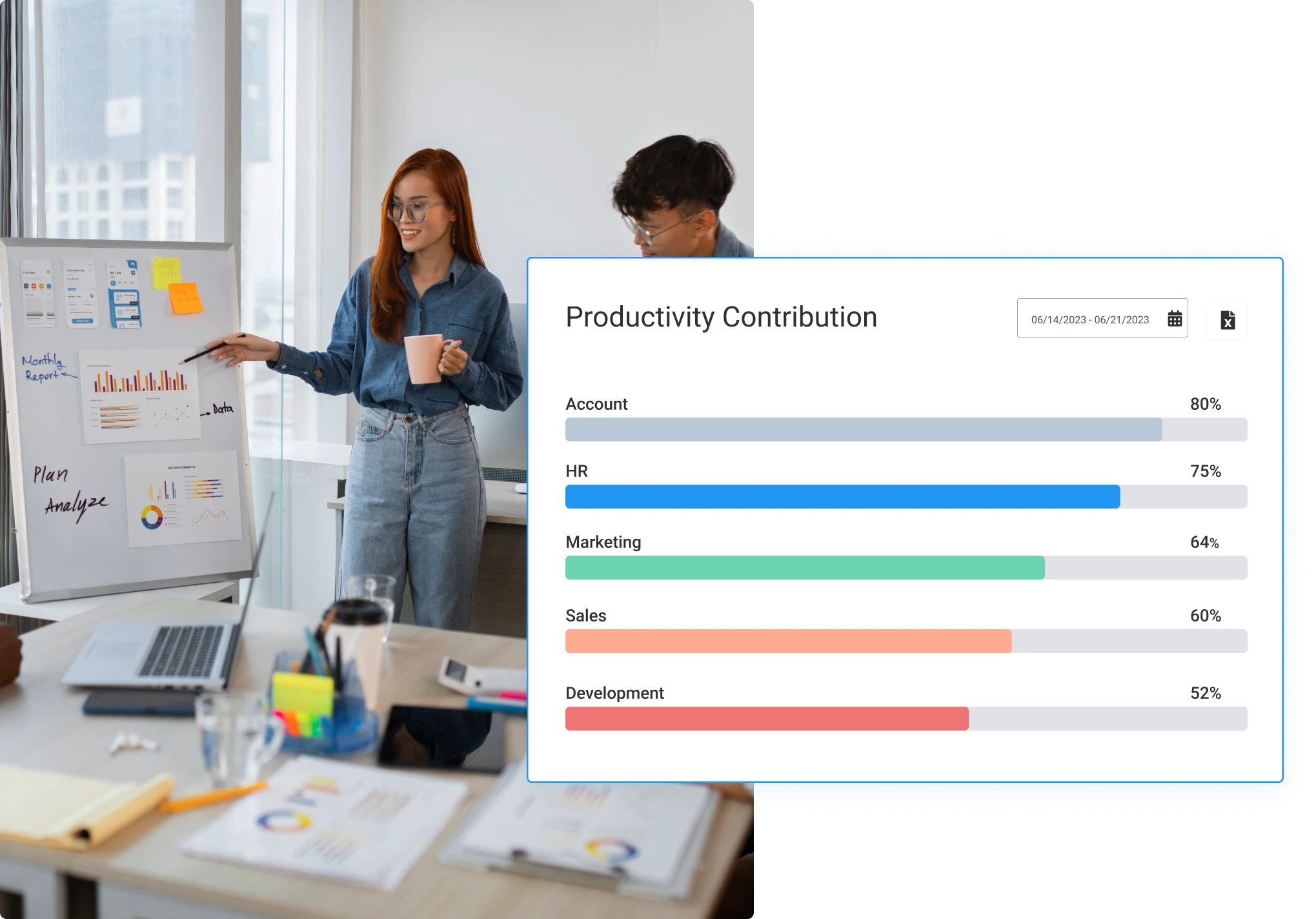 Productivity & Monitoring
Create a secured workplace agnostic of the location, while at the same time increase your workforce productivity.
wAnywhere - AI based employee monitoring software provides multiple tools and actionable analytics through comprehensive Visualisation/Reporting and flexible real time notifications.
Attendance
Track attendance of employees irrespective of their work location i.e. Office, Home, Remote branch, traveling, off-site and on official duty etc.
Productivity
Measure time-based productivity and task-based productivity based on tasks created on the wAnywhere platform. Get macro and micro views of idle/break times.
Activity Tracking
There is an option to choose between macro-overview and individual activity tracking. Intuitive UI to view activity tree, with timestamp, of the complete day. Day and session Login/Logoff times, Breaks taken, idle time, Aux time etc. Get notifications if defined thresholds are crossed.
App & Website usage
Monitor and measure App and Website usage. Ability to classify categories of apps and website. Comprehensive dashboards to get macro level overview across departments.
Screen Grab
Configurable feature that can be enabled to capture screen shots at defined intervals. Flexible purging feature to delete old pictures.
Productive/Non-Productive Hours
Define applications and websites which are Productive and Non-Productive. Intuitive charts and downloadable reports available.
Break & Aux Management
Allocate and track allowed break times. Flexible AUX management systems to track training, meetings, offline work.
Leave Management
Manage leaves with approval workflows through the simple yet powerful leave management system. Integration with internal systems on request is also supported.
Dashboards - Visualisation and Reporting
One of the largest set of Dashboards & Reports to view data from all perspective. Take data driven decisions. Downloadable reports in Excel format. APIs available on request to integrate with internal systems.
Task Management
Task Management is a built-in solution through which tasks can be allocated and their status can be monitored and measured at each stage. A more advanced version of Task Management is available with features like reviews, sub-tasks, attachments, utilisation reports etc.
Notifications
Configure notifications whenever productivity parameters are breached. Flexible configuration to add supervisors, managers, admins, auditors etc.