Table of Contents
The shift towards future work encourages more organizations and their teams to work in distributed environments. With growing remote work, concerns are equally growing for organizations to manage remote workforce and maintain employee productivity in distributed work.
Even industries like BPOs and Contact Centers with remote teams processing vital information, including health, finance, and other important details struggle to maintain employee efficiency and compliance in the distributed work environment.
The right solution can help balance the flexibility of the modern workplace and ensure employee productivity, engagement, and data privacy in remote work.
Why you need employee monitoring software in the modern workplace
In the modern workplace with teams working in a flexible and unmonitored environment, the importance of employee monitoring software becomes vital to measure employee performance on critical parameters including employee productivity, efficiency, engagement, and data compliance at work to learn how they're doing, what impacts their work, and what support they need to keep them aligned with the business goals and policies.
Let's understand how employee monitoring software can help organizations with the distributed workforce.
How employee monitoring software can help organizations with remote teams
Distributed teams working in siloed environments are on their own to manage work. They often get into need to collaborate with members to discuss work and require resources to perform tasks in less time. If they're provided with performance-based data including what they work, in what time, and productivity, as well as how compliant their actions are – it helps them improve their action to achieve the efficiency and engagement at work that you expect from them.
Here, you can get help from effective employee monitoring software to define performance parameters for your distributed teams to measure how remote employees work and get answers to your most sought-after questions, including what time distributed employees take to complete a task, how efficiently your remote teams perform, how compliant are their actions, and what productivity your teams achieve in remote work.
Let's get into the details of the benefits that employee monitoring software can bring to you to manage your workforce in the modern workplace with confidence and ensure productive work and compliance for optimized business operations.
What advantages employee monitoring software can bring to the modern workplace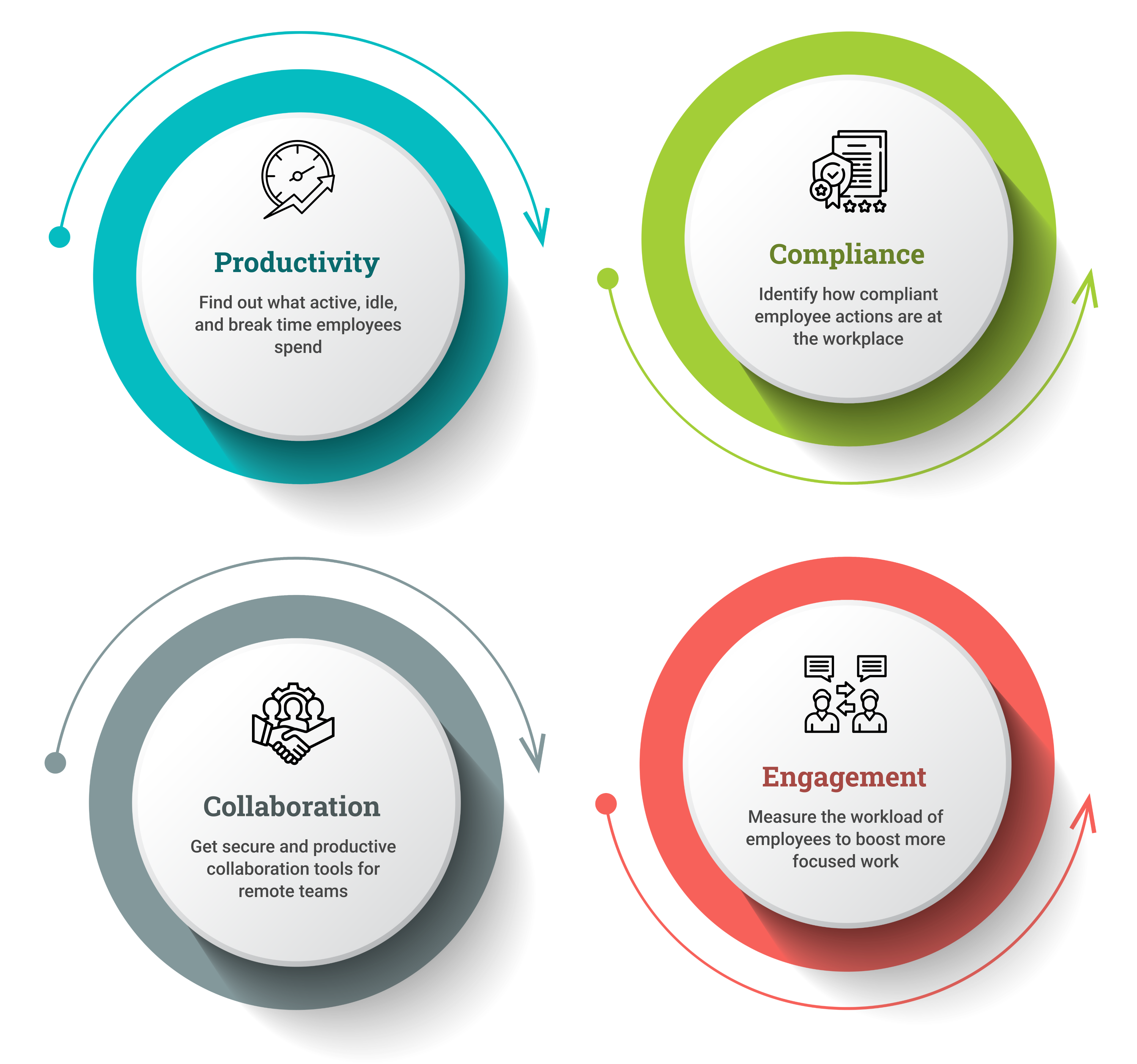 Read More : How work location impacts employee productivity
A capable employee monitoring software purpose-built to manage remote teams and measure employee performance, like wAnywhere, enables you to define employee productivity, efficiency, and compliance to analyze how distributed teams work in the modern workplace.
The monitoring tool integrated with additional resources, including secure collaboration tools and productivity-enhancing apps, empowers your remote teams to communicate work and perform tasks fast and with more efficiency.
With the detailed and intuitive employee monitoring dashboard, you get actionable insights into how teams perform and how compliant employee actions are to ensure employee productivity and data privacy in the modern workplace.
Let's understand how employee monitoring can benefit the modern workforce with improved productivity and performance:
Productivity Monitoring
Analyze employee productivity based on what time they take for what tasks, what apps and websites they visit, when they log into work, what time they are active at work, and what break, idle, and aux time they spend.
– Real-Time Activity Monitor: Know when your remote teams perform what tasks and at what time to understand their work pattern and how it impacts their performance.
– Login and Logout Time: Learn when distributed teams log into work, what hours they work, and when they log out to measure employee productive hours.
– App & Web Usage: Find out what apps and websites your teams visit in remote work to categorize them and identify what productive and non-productive hours they spend at work.
– Active and Idle Time: Detect what time your teams spend being active on work and what time they spend idle or not working.
– Break and Aux Time: Identify what time remote employees spend on breaks, and what time your Contact Center/BPO teams spend on aux time, also find out if employees exceed break and aux time to measure productive work hours.
Security and Compliance
Control employee behavior in BPOs and Contact Centers to measure how they work and identify risky employee activities to ensure compliance and data privacy. Enable AI-powered automated violation detections to trigger security actions from – Blackout Screen/Block Screen/OS Lock – against non-compliant employee behavior to secure BPO and Contact Center operations in the modern workplace.
– Employee Not at Desk: Identify if the employee is not at the desk and has left the machine unattended to avoid data breach instances.
– Unknown Person at Desk: Detect if an invalid person is at the desk to negate unauthorized data violation.
– Multiple Persons around Workplace: Find out if multiple persons are around the employee workplace to curb unauthenticated data exposure.
– Mobile Detection at Work: Monitor if employees use mobile at work to eliminate the chances for screen capture/record.
Collaboration
Allow your distributed teams a controlled and productive virtual environment to discuss and share business docs. A capable monitoring tool, like wAnywhere, provides effective collaboration tools for secure and controlled communication for your remote teams.
– wAnywhere Connect: A virtual collaboration tool capable of video conference, meeting creation, control team interaction, and secure doc sharing enables remote teams to get together and discuss work.
– wAnywhere Chat: A communication tool with additional capabilities from meeting creation, control team interaction, and secure doc sharing empowers distributed teams to chat and discuss work.
Engagement
Measure how engaged your remote teams are at work and identify the factors that impact employee performance. Provide the needed support to your distributed workforce and encourage teams to perform more productive work.
– Employee Wellness: Track employees working against defined continuous work hours and alert them to take breaks and negate employee burnout to motivate them for more focused and efficient work.
Read More: How to Evaluate and Enhance Employee Wellness and Engagement in Remote Work
– Leaderboard: Acknowledge top performers in your teams and recognize their exceptional efforts with achievement badges; encourage team members to boost performance and achieve more productivity at work.
– WaterCooler: Allow your remote workforce an office-watercooler-like virtual environment to connect and conversate in a casual space to talk about life, fun, weekend plans, and more to help employees shed off work monotony and reset productivity.
Apps and Tools
Provide teams with the needed resources to help them perform tasks in less time and with more efficiency. Productivity-enhancing apps from employee monitoring software, as wAnywhere provides, enable your teams to optimize performance.
– Note: Allow teams to get pre-designed templates to create important meeting notes to keep reminded to reflect those points in execution.
– Vault: Enable secure storage and access of docs for remote teams to avoid unauthorized access to business resources.
– Ideation Zone: Provide your distributed workforce with a productive virtual environment to get together and brainstorm to explore ideas for execution.
– Timesheet: Automated timesheets to capture employee work hours and calculate billing based on productive hours.
– Leave Management: Facilitate teams to request leaves and approve them on a single platform; identify what resources are available to allocate work and avoid impact on ongoing tasks.
Why wAnywhere is the right option
Manage your distributed teams in the modern workplace with confidence. Get a capable employee monitoring software to measure employee performance and maintain productivity at work. Try wAnywhere today to boost productivity, and engagement for your remote teams; also ensure data privacy in the modern workplace.