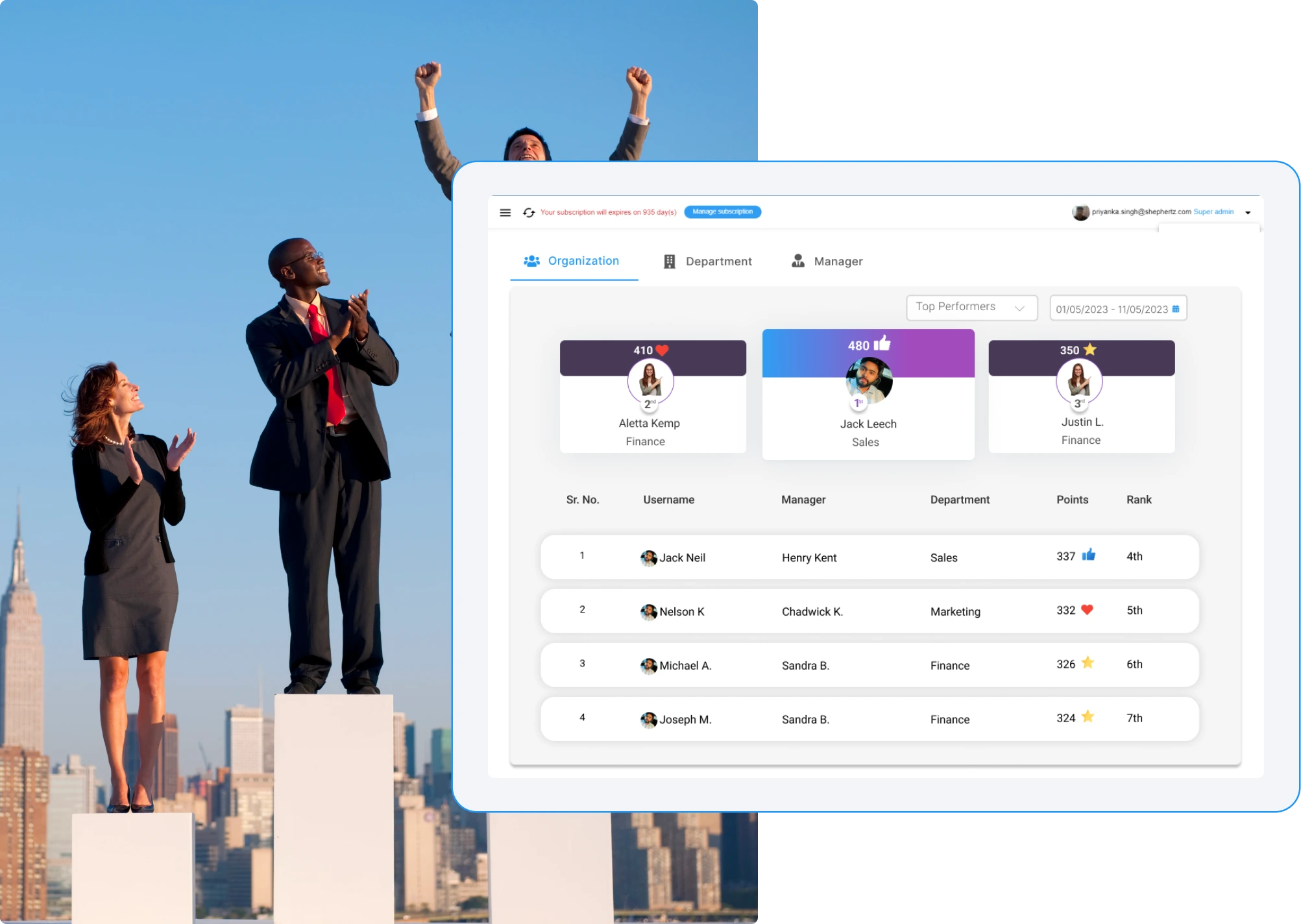 Motivation & Engagement
Hybrid work brings new challenges to keep your teams engaged, productive, and motivated. The wAnywhere platform for remote employee monitoring software provides effective features to enhance engagement with your teams and motivate them to boost performance.
Now when many organizations are operating remotely with distributed teams working from home or other remote locations, they are experiencing advantages as well as challenges of remote work. On one side, distributed work has reduced costs related to real estate, energy, and commutation - while on the other side, it has added new challenges to overcome.
Since teams are distributed and working remotely, there is a lack of in-person contact. Thus, motivating teams towards achieving a common goal has become a critical challenge. wAnywhere provides effective features to engage, empower, and encourage your distributed teams.
The employee monitoring software helps organizations keep teams productive and perform efficiently with the following motivation & engagement features:
Wellness
Gamification – Productivity Leaderboard
WaterCooler
Wellness
wAnywhere helps organizations track the work hours of distributed teams and notify them to take breaks if they work continuously. Managers and admins can utilize the software to define work hours against that they will send an alert for breaks to the continuously working remote teams to reduce stress and maintain productivity.
The wellness feature from wAnywhere employee monitoring software enables organizations to:
Define time duration against continuous work hours
Get notifications against continuously working teams
Send alerts to take breaks
Help teams avoid burn out and perform with more productivity
wAnywhere wellness feature helps organizations encourage a healthy work culture and motivate teams to achieve more.
Gamification - Productivity Leaderboard
Productivity-based gamified leaderboard enables organizations to engage distributed teams in a healthy work competition and reward exceptional efforts. Managers can utilize wAnywhere monitoring software to configure point allocation/deduction based on fair/unfair utilization of idle/break time, more/less attendance, and no/few/exceeding violations to measure team performance and reward achievement badges to promote greater work efficiency in remote work.
Gamified productivity leaderboard from wAnywhere helps organizations motivate teams with:
Setting productivity parameters for break/idle time/attendance/violation
Allocate/deduct points based on fair/unfair use of productivity parameters
Calculate points and analyze performance
Reward top performing teams with achievement badges
Managers/admins can identify what teams perform and what teams need support to improve performance. They can encourage remote teams to continue productive work and identify the top performers doing efficient work. Motivated teams will dedicate more effort to gain or even exceed the defined goals.
Productivity leaderboard gamification from wAnywhere enables organizations to recognize top performance and motivate teams to boost efficiency.
WaterCooler
WaterCooler feature from wAnywhere provides an unmonitored virtual environment to help organizations engage their remote teams in a casual space for random talks or discussions. It helps enable your distributed teams to get a flexible collaboration platform to connect and unwind.
Organizations with distributed teams can utilize wAnywhere WaterCooler to get:
A flexible virtual space mimicking office-watercooler-like environment
Enable remote teams to talk, chat, or discuss
Interact with new employees and teams from other departments
Engage teams in random talks or involve in general discussions
Encourage a collaborative culture in remote work by allowing distributed teams to casually engage and communicate in a flexible virtual environment of WaterCooler from wAnywhere.
Promote a positive environment in remote work and motivate distributed teams to boost productivity and achieve more.