Table of Contents
A business grows in proportion to the productivity its employees execute at work. Helping your workforce utilize most of its work hours keeps them focused on achieving business goals. Employee time is critical that organizations need to align with business growth.
Observing employee break / aux time is a challenge – even more for organizations with a remote workforce. BPOs, too, struggle with monitoring agent aux time. It impacts overall business productivity and results in per-hour billing loss. The absence of agent aux time management causes BPOs unable to track agent aux time utilization and can lead to distracted agents lacking productivity.
wAnywhere break and aux management set in place enables businesses to track employee productive / non-productive hours. BPOs can know either agents exceeding or utilizing aux time for ACW (after-call works).
The following easy steps will help you get wAnywhere break & aux time management set in place:
Configure Employee Break Time
Define the number of breaks (i.e., 4, etc.) and break duration (i.e., 60 minutes, etc.) for employees to track their break time.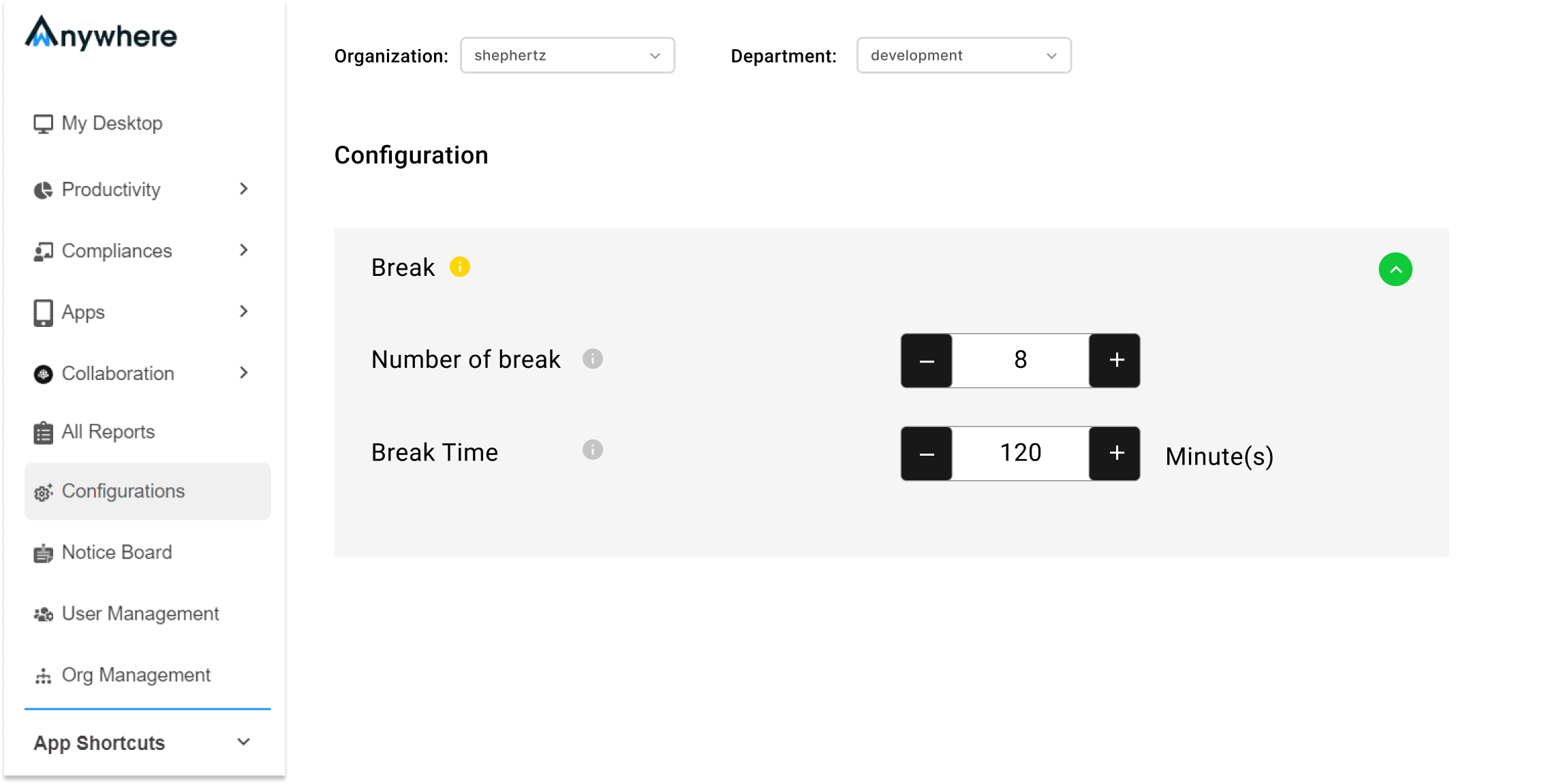 Track over / under-utilized employee break time
Identify employee over / under-utilized break time based on Unused Minutes / Used Minutes / Break Overage Minutes.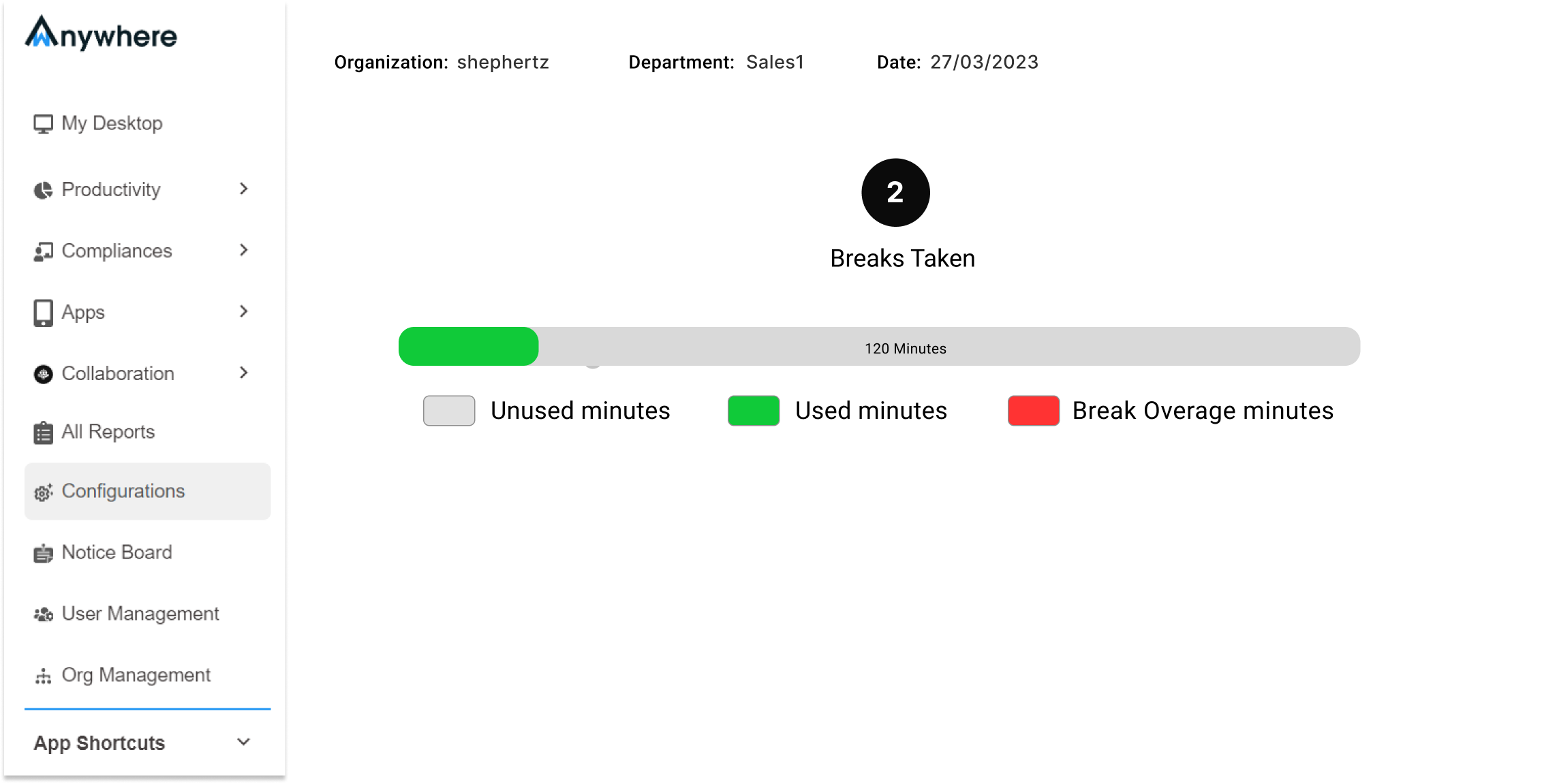 * wAnywhere integrates a wellness feature; aimed to encourage employees to take breaks after defined hours and save them from burning out from prolonged work hours.
Configure Employee Aux Time
Define employee / agent aux time for meeting / training / ACW (after-call works) / presentation, etc. and configure employee machine camera release (say, if the camera needed to be used by another app) / retain (say, if the camera not needed to be used by another app). Also, configure the notification to get employee aux time alerts.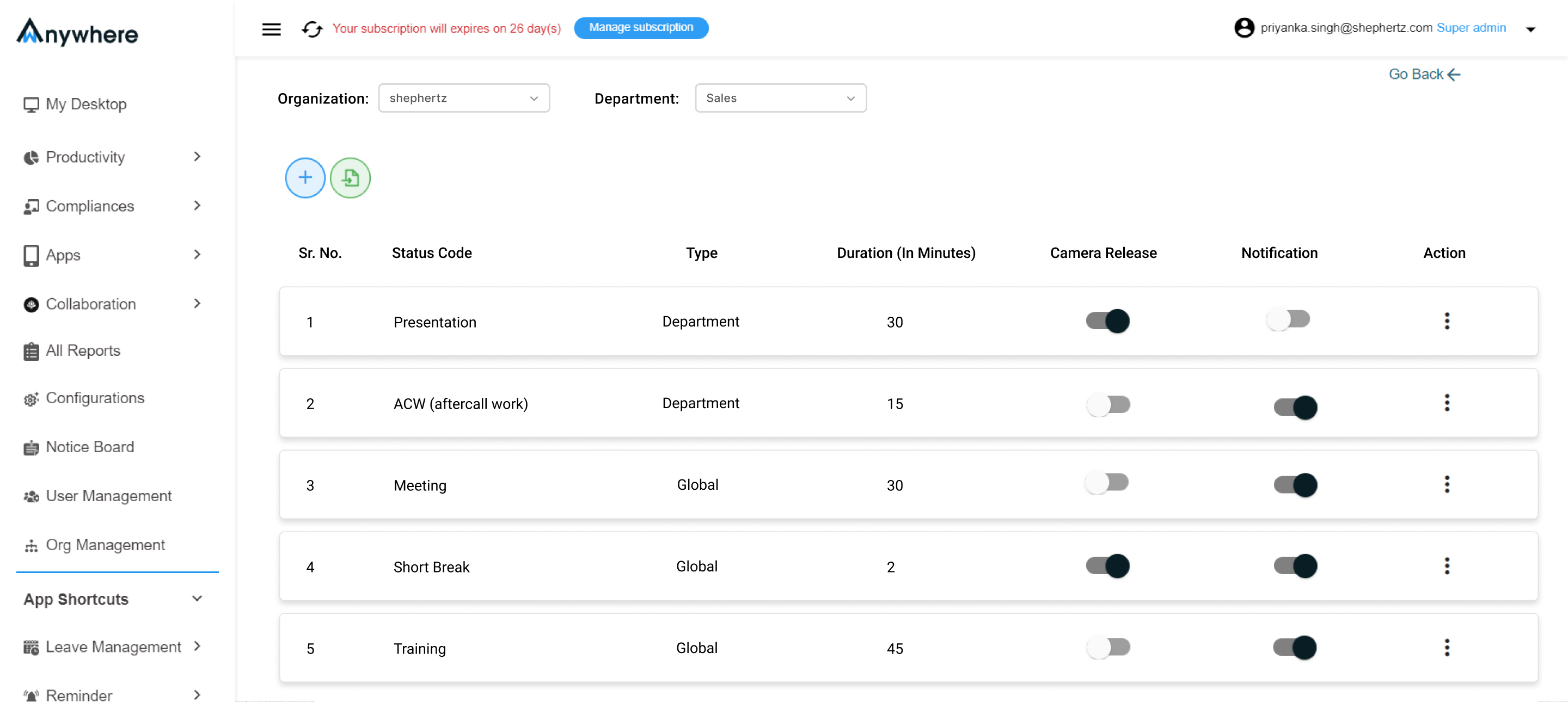 Create Employee Aux Time
Create aux time based on employee / agent job-bound needs (say, demo / after-call work, etc.) with allocating department (marketing / sales, etc.) and duration (i.e., 30 / 15 minutes, etc.).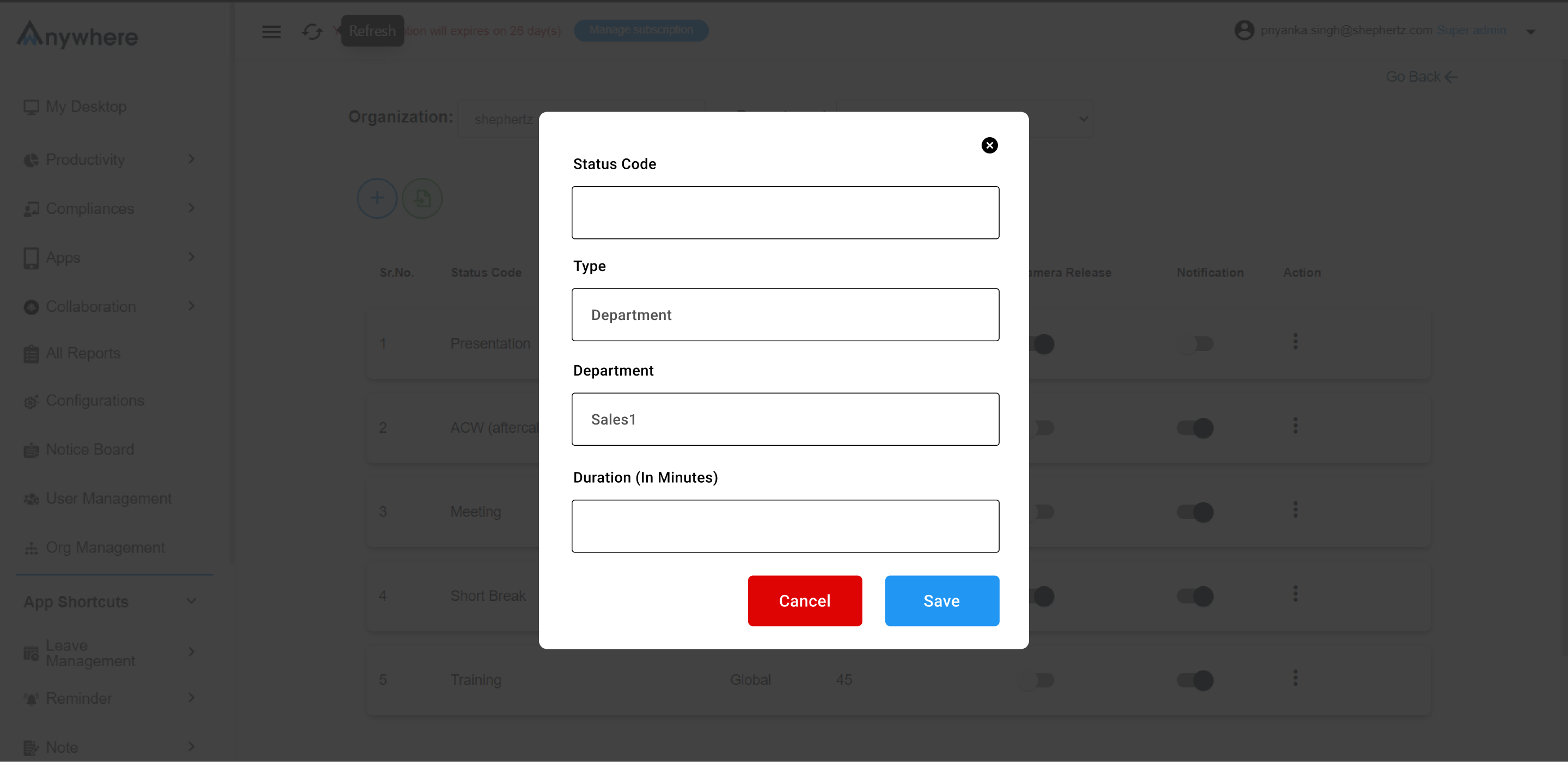 Read More: Idle Time Tracking – Monitor active & inactive time of remote teams
Let us learn how wAnywhere break & aux time management can bring harmony between employee break / aux time and productivity:
Intuitive dashboard for visualization and reporting
Drill down into employee breaks at work and gain insight into the number of employee breaks taken at what day, week, shift, process, or department.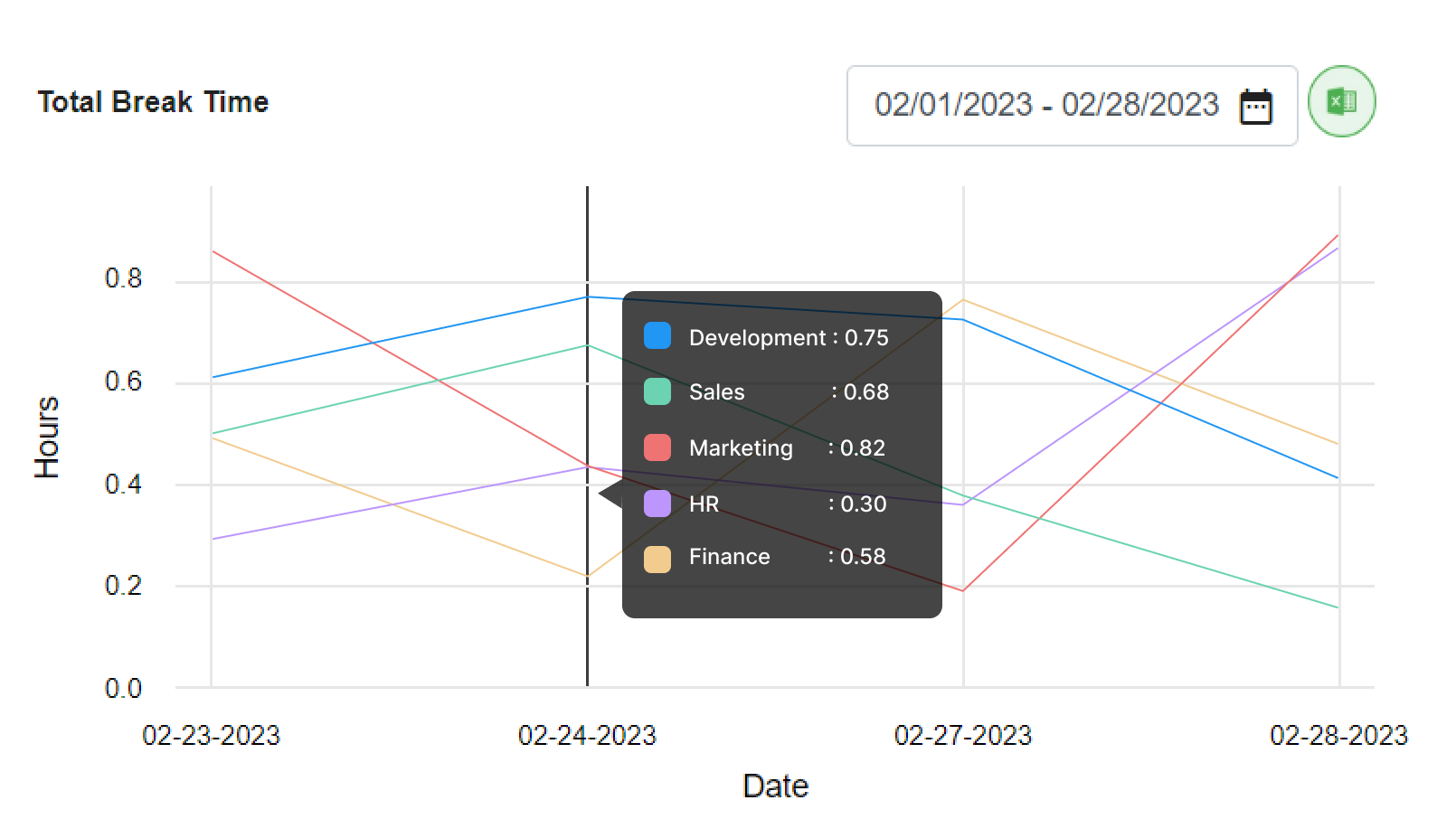 Productive / non-productive employee hours
View the employee break report and track employee break time to know if it exceeds the defined break time and impacts employees' productive hours.

Track employee aux time (meeting / training, etc.)
Monitor employee aux time and never miss their demo / meeting / campaign / training time. It also helps in accurately calculating employee hourly billing.

Monitor live employee aux time utilization
Track live employee aux utilization (presentation / testing / short after-call agent breaks in BPOs, etc.) to know employee work-hour utilization.

Identify exceeding employee aux time
Monitor any exceeding aux time to notify agents in BPOs; also know how productively employees use their aux time in organizations.

The use cases of break & aux time monitoring can be more, depending on the need of your organization / BPO. Let us discuss today why wAnywhere break & aux time management can be your effective solution.