Table of Contents
Employees working in compliance with business policies and regulations better contribute to data privacy and operational efficiency.
As more companies are shifting to hybrid work, it's important for managers to find ways to ensure that employees are compliant with company policies and standard regulations. It can be a challenge, as employees working in-office and remotely make it tricky to monitor their behavior and ensure that they are following company guidelines.
Here are a few actionable points about how to ensure compliance in the hybrid work environment for office and remote working teams: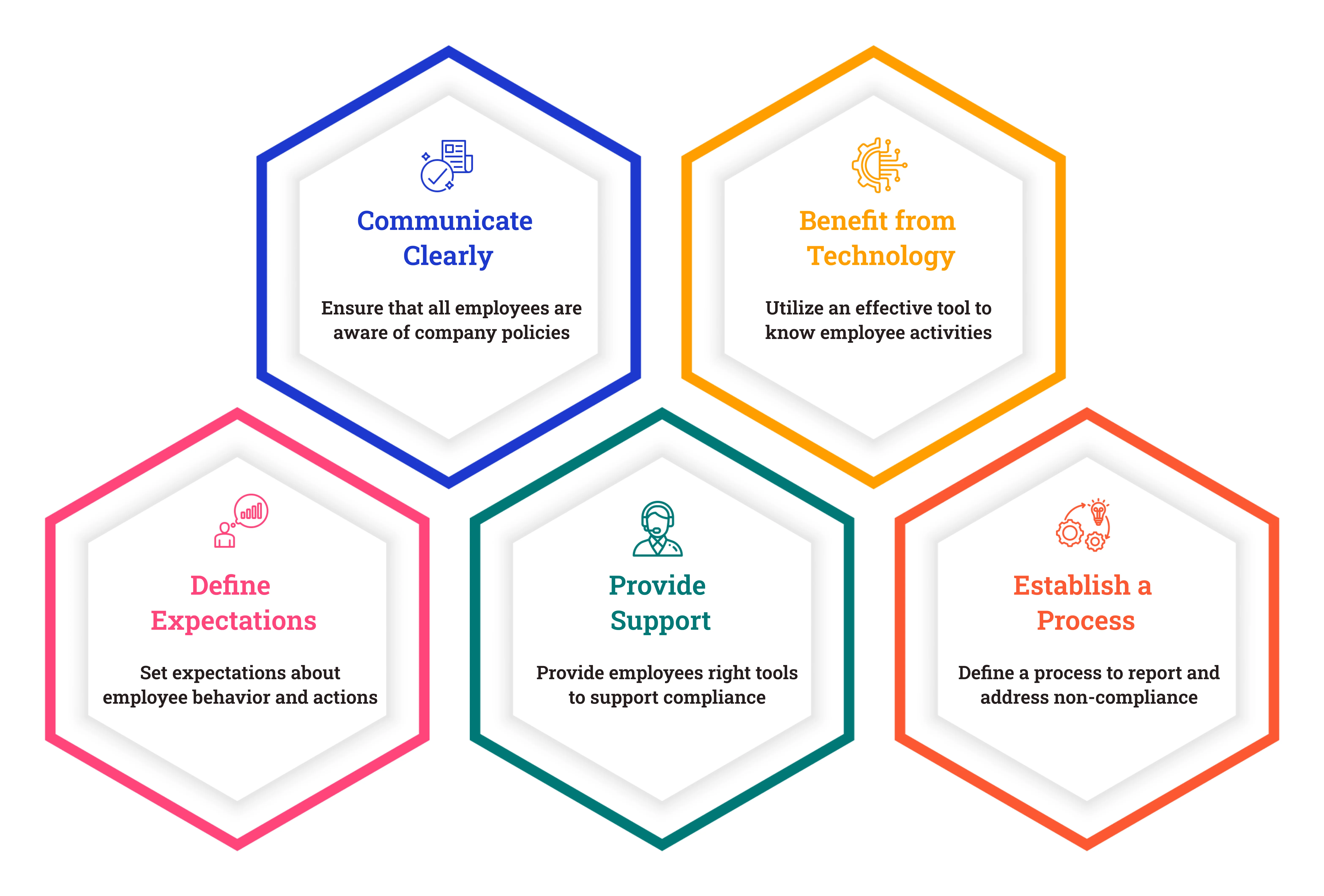 1. Communicate Clearly and Consistently
Communication is vital for ensuring employee compliance in hybrid work because it helps to ensure that all employees are aware of company policies, also they understand their responsibilities. With constant communication, you can avoid any misunderstanding about what is expected from employees and what they need to follow to meet the expectations. When employees feel that they are being kept informed and that their concerns are being heard, they are more likely to feel invested in the success of the company and stay motivated to perform more productive work.
2. Use Technology to Your Advantage
Utilize an effective tool to get help in knowing what activities your hybrid teams do and how compliant are their actions. Implementing employee monitoring software can support you with real-time insights into what break and aux time they use, what apps and websites they access, and what hours they work. You can measure their behavior against the clean desk policy and control their risky actions to ensure data privacy and operational efficiency. Also, you can detect what time your teams log in to work; when they log out, and what time they spend on what tasks to measure their productive and non-productive hours.
3. Set Clear Expectations
Setting clear expectations helps ensure employee compliance in hybrid work as it enables employees to be clear about their responsibilities and how to conduct themselves to meet the defined standards. Moreover, it establishes guidelines for employees to follow and perform more productive work in a secure and optimized hybrid work environment. When employees are aware of what expectations organizations have for them, they better focus on performing with more productivity to achieve greater business goals. Well-aware & guided employees are more likely to behave in compliance with organizational policies.
Read More: What can employee monitoring software do
4. Provide Support and Resources
Provide resources to your hybrid working teams to ensure that they have the right tools to know if their actions are compliant, or if they need to improve to correct their actions with non-compliance alerts to maintain a secure hybrid work environment. Supporting your teams with effective employee monitoring software enables them to better serve their responsibilities and help them follow the defined compliance standards. When employees know that they are being supported with timely security alerts that desktop monitoring software provides, they better behave in line with the business policies to work securely. The sense of support encourages them to do their best work and follow compliance in the workplace to better contribute toward efficient and safe business operations.
5. Establish a Clear Process to Report & Address Non-Compliance
Define a clear process to report and address any instances of employee non-compliance. For instance, it could include having a Super Admin/Manager for employees to report issues, as well as a remedial process to address and resolve any arising problems. By establishing a reliable monitoring process in place, you can ensure that employees are held accountable for their actions and that issues are addressed in a timely and effective manner.
Ensuring compliance in the workplace can be tricky, especially in a hybrid work environment. However, it's vital to manage a successful and productive team. With clear communication and using technology to your advantage, you can set expectations for your teams and provide resources to address non-compliance – it helps ensure security in the workplace. Let's further discuss how you can ensure compliance in the workplace and support your hybrid teams to stay compliant.