Table of Contents
In an evolved work culture today, teams are working in distributed work environments. More organizations than before have opted for remote work thanks to technical advancements and a post-pandemic digital shift. Business leaders must ensure their teams perform productively and in compliance with business policy under an unmonitored remote work environment.
wAnywhere remote employee monitoring software helps the concerned organizations to address their challenge of how to manage remote working teams by providing effective features to ensure your teams are aligned with work and performing efficiently.
Let's discuss the key wAnywhere features that help you keep your teams on track and maintain a high level of productivity while they're working in remote or hybrid work environments.
Productivity and Monitoring
The AI-based work-from-anywhere platform enables managers to gain actionable analytics into how their teams work and with what productivity. Also, they get thorough visualization and reporting to analyze detailed performance data based on their teams' activities. With customizable real-time notifications, managers can alert or inform teams about distractions or non-productivity. Let's know a few highlighting wAnywhere productivity and monitoring features: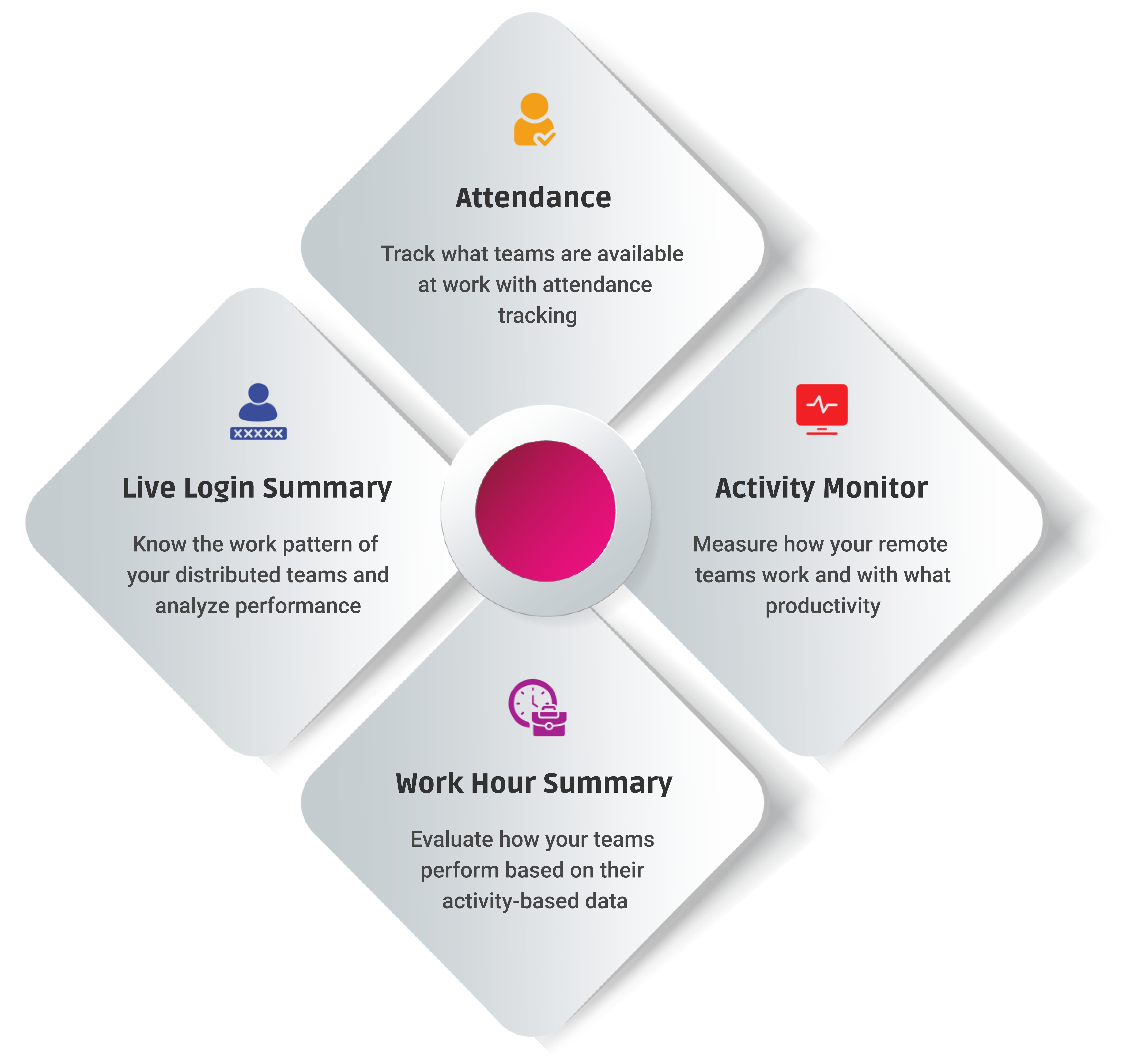 Attendance – Track what teams are available at work with attendance tracking and allow them to log their attendance either working from the office, home, remote branch or doing official duty.
Activity Monitor – Measure what productivity your teams achieve in remote work by monitoring their app and web usage, active and idle time, break and aux time, login, logout, and total work hours to know how they perform and what improvements they need to achieve more.  
Work Summary – Evaluate how your teams perform based on their activity-based data and measure what productivity they achieve. Estimate the expected vs. actual productivity to learn how focused teams work or where they lack to help boost their performance.
Live Login Summary – Know the work pattern of your distributed teams and analyze when they log into work, when they are active or idle, and when use break or aux time to estimate whether it drives or disrupts their performance.      
Motivation and Engagement
Motivated teams execute more productive work. Keep your distributed teams encouraged by appreciating their efforts, allowing them get unwind with colleagues, and taking care of their wellness, so they stay engaged to work. Let's discover the Motivation and Engagement feature from the wAnywhere employee monitoring software:
Read More: 5 Effective Ways to Boost Productivity for Your Remote Teams
Wellness – Track if your teams work for continuous hours to alert them to take breaks and avoid burnout.
Gamified Leaderboard – Acknowledge and reward the top performers in your teams to motivate them and encourage your teams to achieve more.
WaterCooler – Allow remote teams get unwind together in a casual and unmonitored office-watercooler-like virtual environment.
AI-Powered Security and Compliance
Control security in remote work and align teams to follow compliance for data privacy. Monitor your teams' actions and measure if they trigger the violation risks. Ensure a Clean Desk Policy to align your teams' behavior for a safe distributed work environment. Let's find out how AI-enabled security and compliance feature from wAnywhere ensures protected remote work environment:
Face Authentication
Authorize your remote teams with Face Authentication to ensure only valid users access business resources.
Employee Not at Desk
Track if the remote employee is not at the desk and has left the machine unattended to black out/block/OS lock/OTP lock the screen and safeguard the important data.
Unknown Person at Desk
Monitor if an unauthorized person is at the work desk to lock the screen and negate any instances of data breaches.
Multiple Persons around Desk
Detect if multiple persons are around the work desk to black out the screen and safeguard the business information from unauthorized exposure.
Mobile Detection at Work
Identify if employees use mobile device at work to curb the chances of recording or capturing critical data visible on the computer screen.
Screen Recording
Take screenshots of employees' screens to know how they behave in remote work and identify if their actions cause risks to negate them and maintain security in remote work.
PII Masking
Ensure your remote teams follow data compliance and mask critical user and financial details (PII/PHI, etc.) to maintain data privacy.
Location Tracking
Monitor where your teams work and geofence the location to control their activities for data and device safety.
Manage your distributed teams with confidence and ensure productivity and compliance in remote work utilizing AI-advanced wAnywhere employee monitoring software. Start a free trial to see it in action today.