Table of Contents
The growth of technology has created a new world that is heavily reliant on data. Evolving digital technologies have fundamentally changed the way we live and work, and most organizations now use technology in some form, whether it's for sending emails or using data analytics tools, like wAnywhere employee monitoring software. As a result, organizations generate and process large amounts of data on a daily basis. To protect this data from theft, accidental loss, and unauthorized access, measures have been put in place to ensure business and user data privacy. The concerned organizations utilizing AI-powered wAnywhere security and compliance have adopted an effective way to enable data privacy. With almost every business relying on data in some way, it is essential to safeguard it against internal and external threats.
Importance of Data Privacy
Given that data is valuable for organizations, protecting it is of the utmost importance. Misuse of corporate data can lead to significant harm, including financial loss, damage to reputation, and loss of customer trust. To negate these risks, companies often practice extensive policies and measures to secure their critical data against violations. With new technologies emerging, including employee monitoring software to ensure Clean Desk Compliance, organizations get reliable options to safeguard personal information in remote or hybrid workplaces.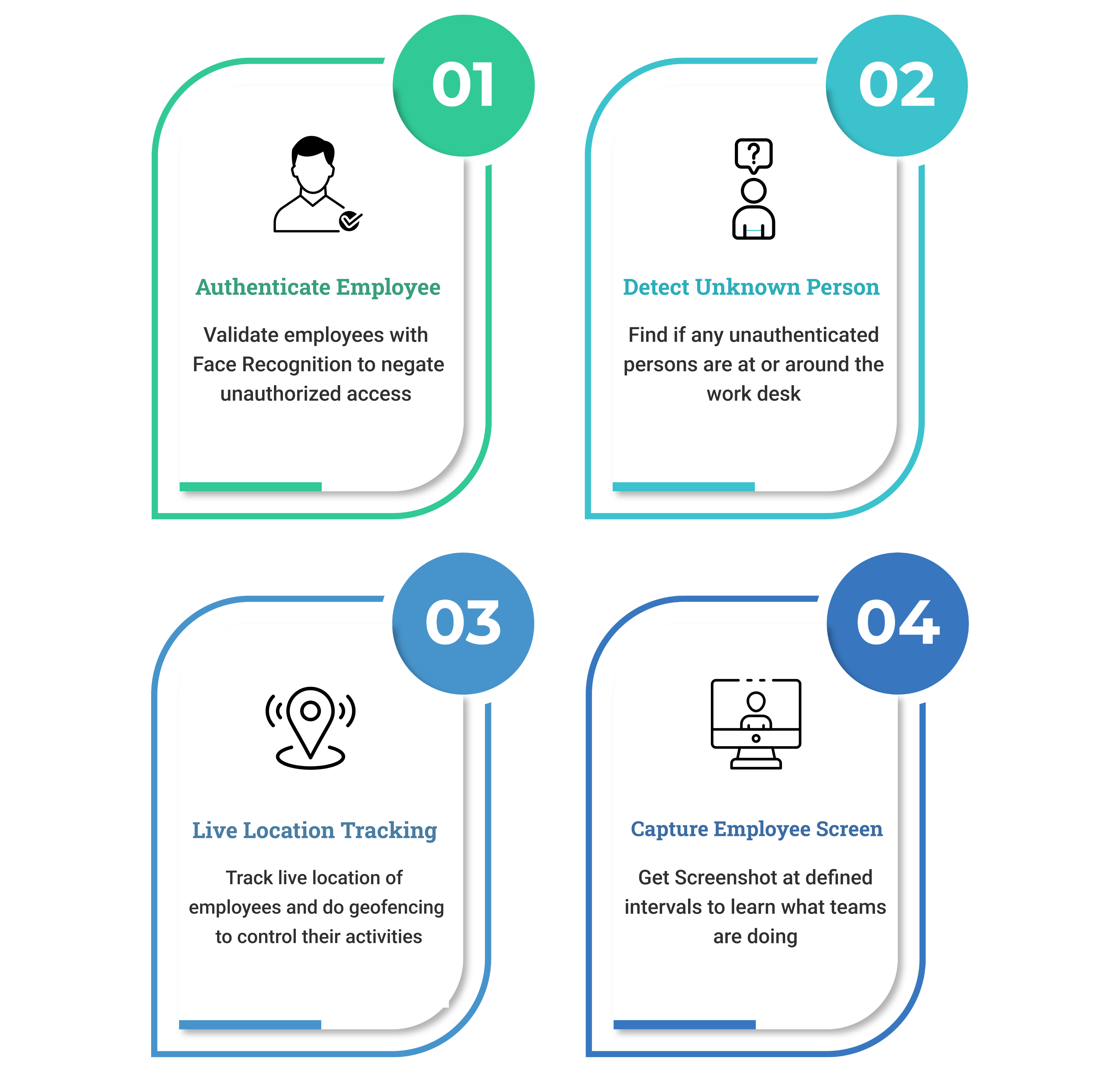 Read More: 7 Most Pressing Challenges and Solutions for BPOs in Remote Work
What Does Data Privacy Mean for Different Organizations
Different organizations have varied data privacy needs and requirements, depending on the type and sensitivity of the information they handle. For example, healthcare organizations need to ensure the privacy and security of patient data, while financial institutions must protect customers' financial information. Retail businesses may need to secure data related to customer purchases and payment information though technology companies may need to protect proprietary research and development data.
wAnywhere employee monitoring software provides you the capability to customize it as per your organization's security needs and ensures your remote or hybrid teams work in compliance with business policy or standard regulations to ensure business and user data privacy.
Regardless of the type of organization, the importance of data privacy can't be overstated. Data privacy is essential for protecting the confidentiality and integrity of business information. Maintaining data privacy helps prevent cyber-attacks, which otherwise can disrupt business operations and cause damage to an organization's credibility. The following is one of the effective practices for data privacy:
Need of PII and PHI Data Masking
PII and PHI Data Masking helps protect critical business details from being revealed and ensures data privacy. With wAnywhere PII and PHI Masking, you get the ability to hide sensitive information and protect it to enable user and business information confidentiality.
Read More: Ensure Productivity and Compliance in Remote Work with wAnywhere
Let's explore the effective measures to ensure data privacy and secure your business operations:
Effective Measures to Secure Your Business Operations
Data breaches are an unfortunate reality of the digital age. With hackers getting smarter and more sophisticated, it's not just about protecting your data from unwanted access, but also potential breaches. It is important to choose an effective employee monitoring software that has the advanced ability to scan for vulnerabilities and detect malware before it can cause any damage. AI-enabled security from wAnywhere – including Face Authentication, Employee Not at Desk, Unknown Person at Desk, Multiple Persons Around the Desk, and Mobile Detection at Work – helps organizations with remote or hybrid working teams to track their actions against violations and enable compliance with business policy.
The following are a few effective methods you can opt for to make your remote or hybrid teams compliant and safeguard your business operations:
Authenticate Your Distributed Teams with Face Recognition
Ensure only authorized teams are able to log in to work with AI-enabled Face Recognition and negate the risk of any unauthorized persons gaining access to important business resources.
Track If Your Employee Has Left the Machine Unattended
Monitor whether your remote or hybrid teams are not present at their work desk and have left the machine unattended with a chance for business data exposure. Control risky employee behavior with wAnywhere's Screen Lock/OS Lock/OTP Lock actions and avoid data breach instances.
Identify If Any Unknown Person is at the Work Desk
Track if any unauthenticated person is at the work desk and secure the valuable business data from getting accessed by some unauthorized person. With AI-powered wAnywhere employee monitoring software, you can detect if any unknown person is at work and negate data violations.
Detect Whether Multiple Persons are Around the Desk
Monitor if employees working in remote environments get exposed to unauthorized eyes around their workplace to avoid data exposure and the risk of information breach. wAnywhere enables you to track whether multiple unauthenticated persons are around the work desk to avoid any instance of data violation.
Read More: How User Behavior Analytics Helps Organizations Ensure Compliance at Work
Monitor If Employees Use Mobile Devices at Work
Track if your remote or hybrid employees use mobile devices at work to curb the chances of screen capture or recording and avoid any risk of an information violation. Utilize wAnywhere desktop tracking software to detect whether distributed teams use mobile devices at work.
Capture Employee Screens to Know What They Do
Screenshot the employee screens at defined intervals to learn how they work and what task they're up to. You can measure your teams' work patterns and actions at different times to identify if there is a security risk to control and negate the violation instances.
Know Employee Location and Ensure Data/Device Safety
Monitor where your distributed teams are working and what tasks they are doing. wAnywhere location tracking enables you to detect the real-time location of your remote employees and do the geofencing to control employee activities and ensure data and device safety.
Data is essential for the growth and success of any business. With the widespread use of data, it is important for organizations to prioritize user and business data privacy in order to create a secure distributed work environment. Know how wAnywhere can help with AI-enabled security and compliance to manage and maintain employee actions and data privacy in distributed work.