Table of Contents
At a time when organizations are shifting from the traditional way of working to future work, remote work is growing and bringing a mix of challenges and advantages for businesses. The advantages are many from saving operational costs to commute time and work flexibility, while challenges are equally no less from managing remote teams to maintaining productivity and ensuring security and compliance in remote work.
Remote teams are at the center of distributed work and managing and controlling their behavior holds the key for productive and secure remote work. Let's start with understanding what user behavior analytics is and why it is important:
What is User Behavior Analytics
User behavior analytics is to measure user behavior at the workplace and identify how they work and its impact on workplace productivity and secure business operations.
Why User Behavior Analytics is Important
Identifying user behavior analytics hints to business managers about the actions of their remote teams and if they cause risks to business operations and productivity.
Key Factors to Predict User Behavior at the Workplace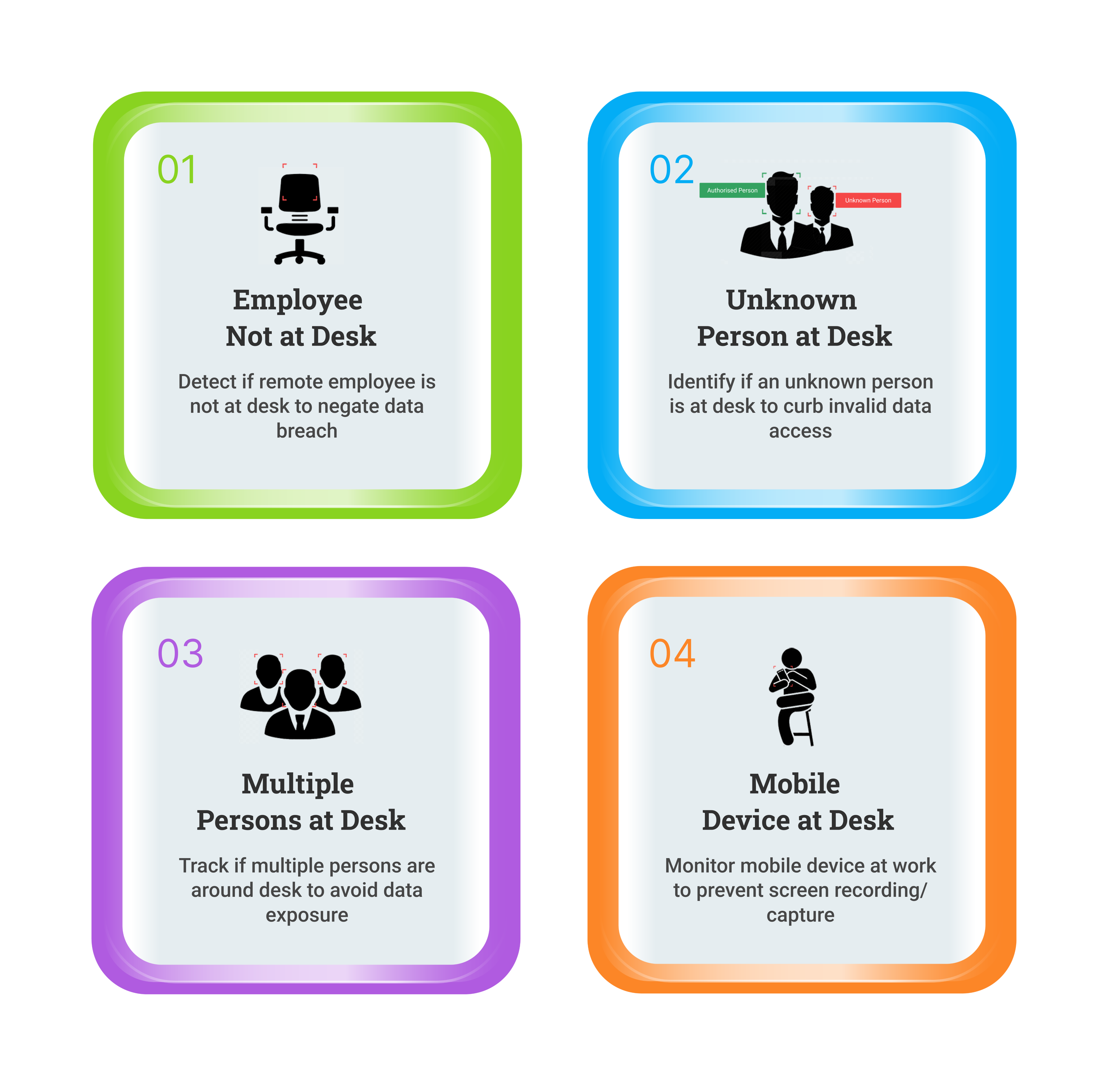 Read More : How to Control Employee Behavior and Data Privacy in Contact Centers
It's critical to keep track of employee behavior in remote work to know what their actions are and if they are compliant with the business policy and standard regulations. Monitoring employee behavior helps predict risky actions to control security and compliance at the remote workplace. Let's learn a few key parameters to predict user behavior at the workplace:
Set Actions Against Employee Behavior
Define actions against employee behavior to measure their activities and know how compliant they work.
Track Employee Activities
Monitor your remote teams to identify their actions and measure if they are compliant and in line with business policy and regulations.
Detect Insider Threats
Identify remote teams' actions and measure if they are non-compliant to eliminate risks to business policy and data privacy.
Importance of Employee Monitoring Software in User Behavior Analytics
An effective employee monitoring software enables managers to get actionable insights into employee activities at the workplace and helps them predict risky employee actions to control security and compliance in the remote workplace. Let's learn how the monitoring tool helps ensure clean desk/business policy and data privacy for your remote teams:
Read More: Why Data Privacy is Important for Your Organization
Configure controls against employee activities
Set preventive controls against risky employee activities to automate actions for violation detection
Detect Employee Not at Desk
Identify if the remote employee is not at the desk and has left the machine unattended to negate data violation instances
Identify Unknown/Multiple Persons at Desk
Detect if there is any unknown person at the desk, or multiple persons are around the employee workplace to avoid unauthorized data exposure
Track Mobile Device at Work
Monitor if remote teams use the mobile device at the workplace to control data recording/capture
Get Screenshots to Measure Employee Behavior
Capture employee screens at defined intervals to measure how they behave at the workplace and get proof of their actions to control security in remote work
Control Employee Behavior and Violations
Alert employees against risky behavior and non-compliance to control their actions and ensure clean desk/business policy and data privacy in distributed work
Ensure Security and Compliance with Employee Monitoring Software
Get accurate user behavior analytics in remote work and manage your remote teams with confidence. Know how effective employee monitoring software helps you keep track of employee actions to control security and compliance at the workplace.