Importance of Employee Monitoring Software: Data holds immense importance for a business and it needs to be protected to avoid unrecoverable loss. Now, when many organizations are working remotely, they're more concerned about data privacy than ever. As remote teams handle and process critical business data, setting monitoring against their actions can help organizations measure team activities and control the impact on data confidentiality.
Table of Contents
The significance of effective employee monitoring software enables remote organizations to get detailed insights into remote teams' behavior in distributed work and analyze how compliant are their actions. You can further track keystrokes to prevent copy/paste actions, capture screenshots to detect suspicious actions with proof of work, and monitor online activities with URL tracking to ensure fair web usage.
Why employee monitoring software matters in remote work
A capable employee monitoring software, such as wAnywhere, keeps you informed of every activity of remote teams to estimate how they spend day and what compliance level they achieve. You can get detailed data on work patterns of remote teams to estimate whether they work focused or they are distracted and experiencing difficulties to achieve goals. Employee monitoring software helps you identify the inefficiencies in distributed work and control unproductive activities by enabling clean desk policy to help teams stay aligned with goals.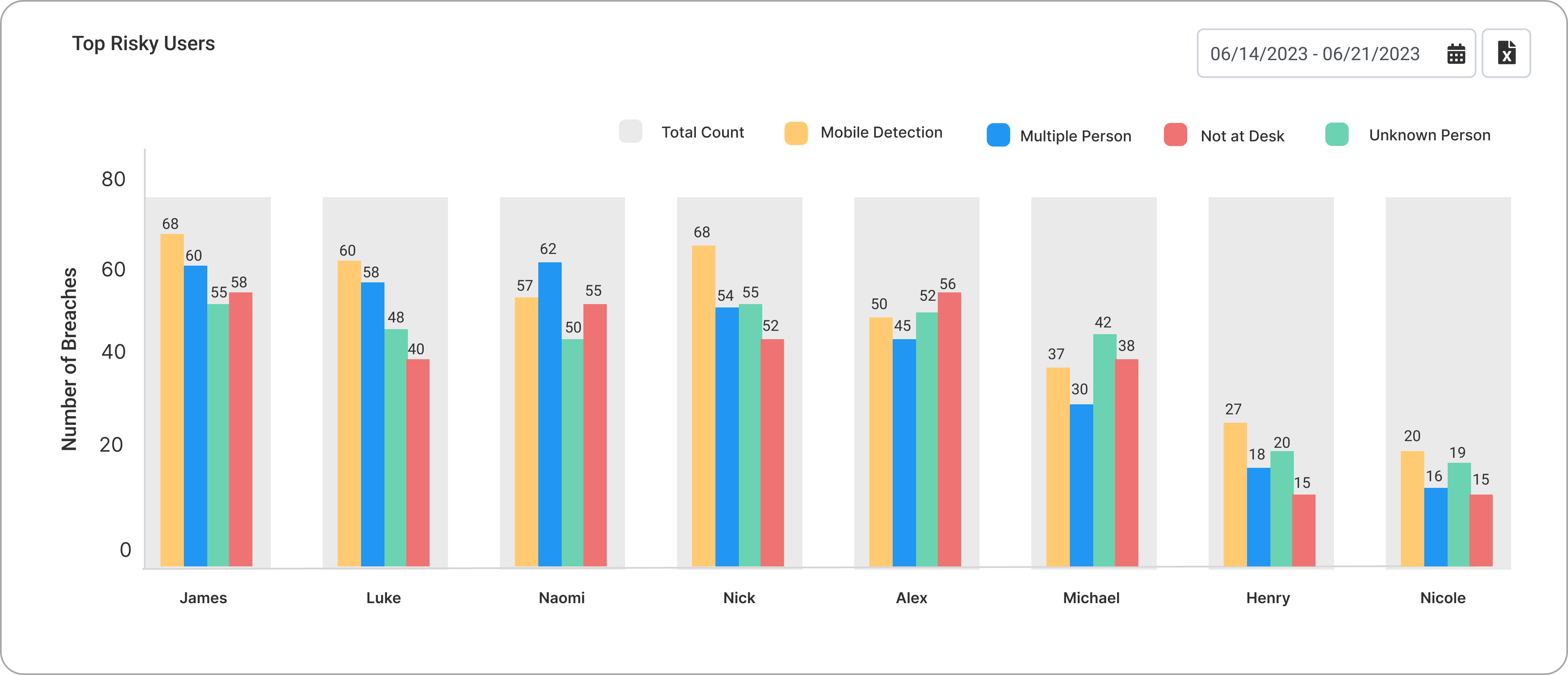 Read More: What can employee monitoring software do
How employee monitoring software helps ensure data privacy
The monitoring software empowers remote organizations to gain actionable data against every single activity of distributed teams to stay aware of where they're, what they're doing, and how compliant they act with proof of work. Let's understand how monitoring remote teams helps negate risks in remote work and maintain data privacy:
AI-enabled activity detections
AI-powered employee monitoring software enables remote organizations to set controls against risky behavior of distributed teams and automate actions to counter the impact on data privacy, including:
– Face Authentication: Authenticate remote teams with face registration to full-proof user validation
– Unknown person: Authorize remote teams with users registered in the system to negate the chances of any unauthorized user at desk in remote work
– Employee not at desk: Track if remote teams have left machine unattended and block the screen to protect the data from getting seen/captured by some unauthorized person (be it roommate at home, or onlookers in café, etc.)
– Unauthorized persons around the desk: Monitor whether unauthorized persons are around the work desk to black out/block/OS block the screen and protect the data
– Mobile use at work: Detect if remote teams use mobile devices (pen drive, portable storage, etc.) to block the screen and negate the attempt to capture/record screen
– Enable clean desk policy: Align teams with clean desk policy to maintain data privacy
– Screen Grab: Grab screenshots at defined durations for audit purpose
Read More: How wAnywhere leverages AI to maintain security & compliance across your remote work environment
Enable clean desk policy to ensure compliance
Employee monitoring software can help you track how remote teams handle and process data (PII/PHI, etc.), detect any potential vulnerabilities, and ensure teams align with business policies and standard regulations. With employee monitoring software, you can track employee actions to negate the risk of intentional or accidental breach of data that could lead to financial and legal consequences.
Screenshot monitoring to identify security vulnerabilities
Get screenshots at defined intervals to identify suspicious behavior in remote work and detect if there is any potential risk. By monitoring employee actions utilizing AI-powered software, you can analyze and control risky activities that may result in security/data breach.
Advantages of utilizing employee monitoring software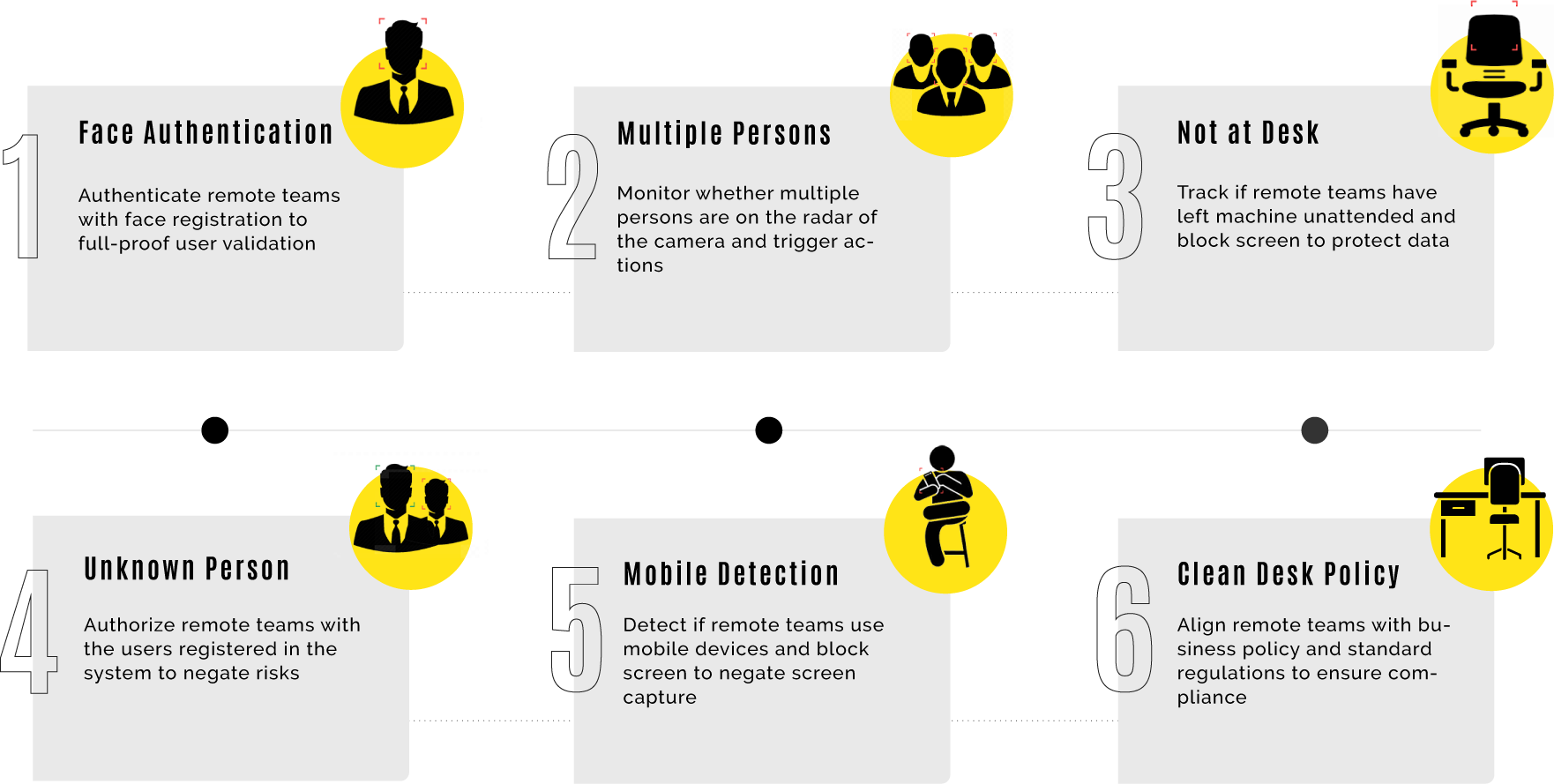 Read More : How to Ensure Ethical Use of Employee Monitoring Software
You can leverage employee monitoring software for improved team productivity, remote work security, and enhanced compliance. Let's learn in detail about what benefits you can achieve: 
– Control security threats and data risks
Track actions of remote teams and detect risky activities. Identify what online resources remote teams access with URL monitoring. Find out and prevent potential security breaches, unauthenticated access, or breach of sensitive data. Enhance data security and reduce the risk of internal and external threats.
– Ensure compliance with policies and regulations
Enable clean desk compliance and align remote teams with business policies and standard regulations. Detect and control violations, such as the use of mobile device at remote work, inappropriate data storage/capture, or unknown/multiple persons at/around work desk.
– Improve overall efficiency in remote work
Gain detailed insights into work patterns of remote teams and identify inefficiencies to optimize productivity of distributed teams and business operations. Monitor team behavior in remote work and control distractions to enhance overall efficiency.
Track actions of remote teams and negate the risk of data breach in distributed work. Know how AI-powered wAnywhere employee monitoring software helps control violations and align team activities toward maintaining data privacy and achieving business goals.