Table of Contents
Improving employee productivity with effective monitoring software solutions is important today especially when remote organizations are struggling to know how distributed teams behave, what actions they do, and how efficiently they perform. The global employee engagement report 2023 by Gallup indicates that employee engagement is expected to gain momentum as it currently stands at 23%. Here, it is critical to monitor team activities and measure if they're on the right track to achieve business goals. In this, the role of employee monitoring software becomes vital to manage productivity and keep the momentum going.
Remote teams can easily get distracted in an unmonitored flexible work environment which could impact their productivity and business operations. While controlling their behaviors and aligning their actions with business objectives can help gain expected results. Let's discuss what capabilities you can gain utilizing employee monitoring software to identify the reasons for inefficiency in distributed work and maintain productivity for remote teams:
How employee productivity tracking can help identify inefficiencies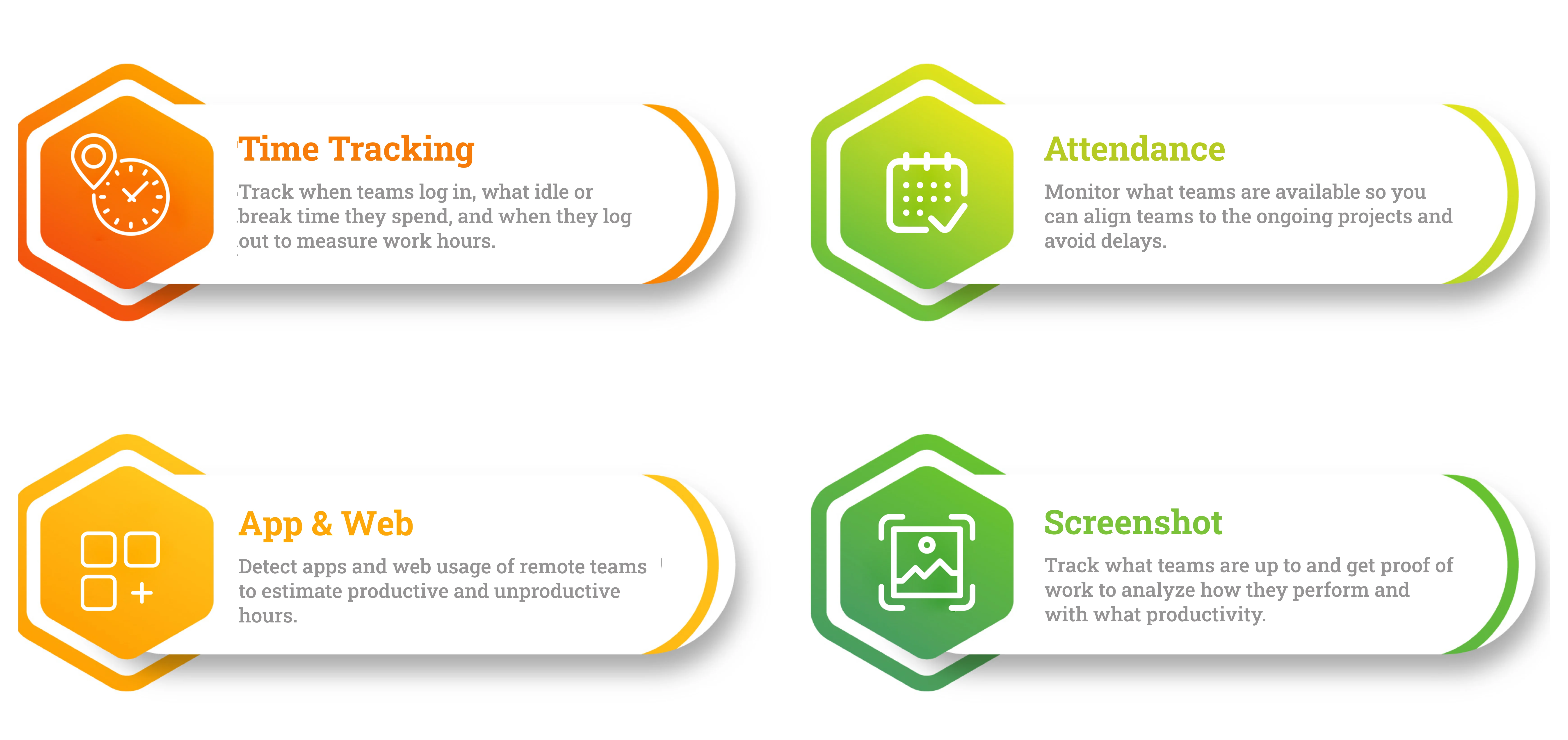 Read More: How to Find the Right Employee Monitoring Software for Your Organization
Without identifying how remote teams behave and what actions they perform, you cannot get a clear picture of how teams perform and with what efficiency. In comparison to office teams, managers struggle to know how remote teams spend the day at work and what productivity they achieve. Utilizing an effective employee productivity monitoring tool helps you set required productivity metrics against employee actions to detect inefficiencies and improve performance.
Now, let's know what productivity metrics you can define using an employee monitoring tool:
– Time Tracking
Track when teams log in, what exceeding idle or break time they spend; when they log out, and what work hours they perform. By measuring employee hours with the time tracking tool, you can know if teams work for expected hours.
– Attendance
Monitor what teams are absent so you can analyze the impact on ongoing/upcoming tasks and estimate the delays. Encourage teams to dedicate efforts and stay on course to ensure on-time project delivery and meet the timeline.
– App & Web Usage
Detect what applications and websites remote teams access and label them based on their category. Measure what non-productive time teams spend in distributed work and control the inefficient habits to improve performance.
– Screenshot
Track what teams are doing and what activities they perform on the computer. Get screenshots at defined intervals to identify their unproductive habits, like non-productive app and web usage, more than expected time spent on assigned tasks, fewer work hours performed, and low productivity achieved.
What productivity insights you can gain with employee monitoring tool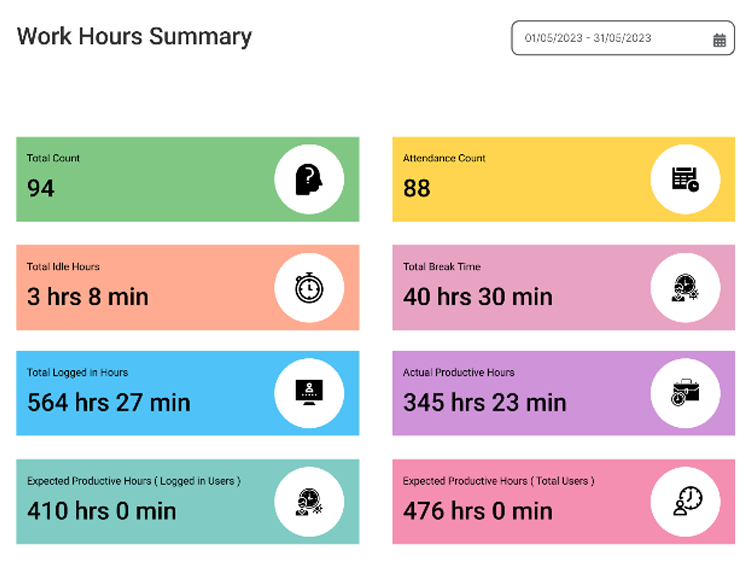 Read More: What is the need of time tracking software
Defining tracking against employee actions helps you get detailed data on what teams follow what work patterns and how it impacts their productivity. You can utilize this data to determine which teams better perform and which teams need support to improve performance. Based on the insights that employee monitoring solutions provide, you can identify the non-productive factors leading to inefficient employee behavior and low performance.
Let's understand how you can analyze the productivity insights from employee monitoring software to break it down into the following:
– Behavior Analytics
Analyze what actions employees do in remote work and how it impacts their performance. Identify their inefficient habits like spending more time on unproductive apps and websites, or exceeding idle or break time to estimate where employees' most work hours go wasted and how their inefficient behaviors cause project delays.
– Activity Tracking
Identify non-productive work patterns of remote teams and learn what exceeding time they spend as idle/break/aux hours. Detect when they work, what tasks they perform, and at what time to estimate the factors leading to employee inefficiency and non-productive remote work.
– Work Patterns
Detect when teams log in to work and if they log in late, what teams are available to work and what teams are absent to estimate project delays, identify exceeding idle and break time to find out the impact on urgent tasks nearing the deadline, and know what time they work to measure expected hours.
– Compliance
Analyze what distractions are leading to low employee performance and security risks. Detect what employees are most distracted and doing less productive work even risking data privacy. Implement clean desk compliance to encourage more focused work, and negate risks.
How you can gain benefits from employee monitoring software
Read More: What can employee monitoring software do
You can utilize the actionable insights from one of the best employee productivity tracking software and identify the inefficient factors leading to non-productive work. Find out where employees are leaking most of their work hours and what behavior at remote work is causing them to perform low. Let's discuss what advantages you can gain with employee monitoring software:
– Control employee behavior
Align employee behavior in remote work to negate distractions and improve focus. Alert employees against exceeding break/idle/aux time to promote more productive work. Control unproductive app and web usage to maximize productive hours.
– Improve inefficient actions
Provide support to employees who are performing with low productivity and help them enhance their performance. Allow them access to needed resources to improve their project competition time. Enable clean desk compliance to negate distractions and encourage more focused work.
– Optimize work hours
Define break, idle, and aux time duration to limit unproductive hours and keep employees focused to achieve goals. Align employee efforts to promote more productive work. Allow only work-bound apps and websites to optimize work hours.
– Enhance performance
Define metrics against employee actions and identify non-productive activities to maximize performance. Track employee work patterns in real-time and control their inefficient behavior to improve performance.
Monitor employee activities in remote work and identify how they utilize time and what performance they achieve. Start a free trial of wAnywhere employee monitoring software today to know where teams lack to perform and what support they need to execute more productive work.