Table of Contents
What is the right employee monitoring software for your organization? – This is the most common question that remote organizations keep looking for. Its answer entails critical factors for you to consider first, then decide on the capability of the monitoring tool to meet your needs of tracking and measuring your remote teams' performance. As Forbes reports that 16% of global organizations operate remotely and 98% of the global workforce is more likely to adopt remote work in the near future, monitoring employee productivity in the distributed environment becomes paramount.
Let's start deciphering the question by understanding what value employee monitoring software can bring to your organization:
Why employee monitoring software is important in remote work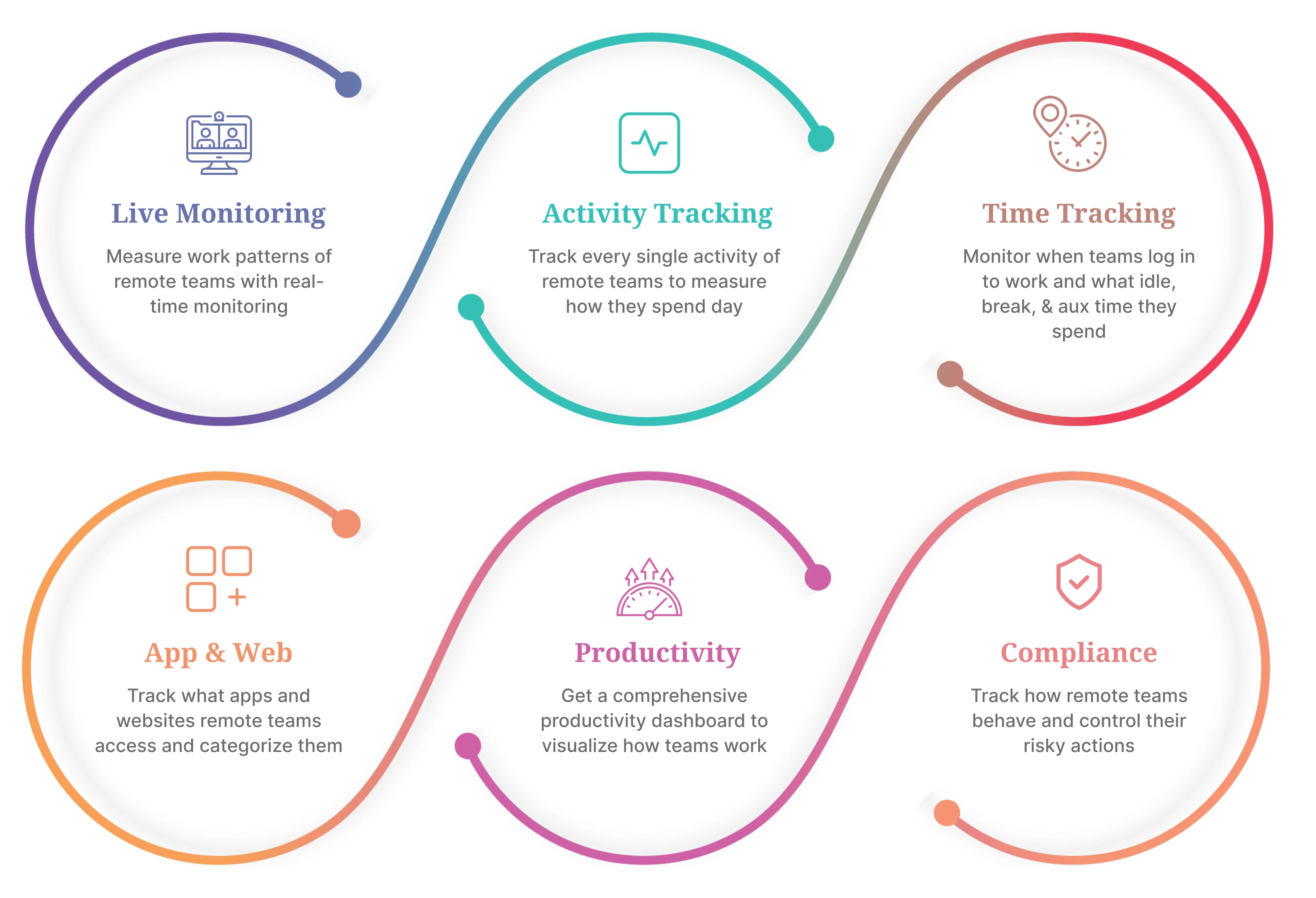 Read More: What can employee monitoring software do
Your remote teams work in an unmonitored flexible environment in comparison to office teams that work within the sight of the manager. You can't measure how remote teams spend the day at work and with what efficiency, or when they're performing low and what help they need, even you can't detect how compliant their actions are. It all leads to inefficiency and data risks in distributed work and also results in unoptimized business operations.
On the other hand, monitoring remote teams enables you to know how they perform, what support they need to improve productivity, ensure compliance to secure distributed work, and align team efforts to achieve business goals.
Let's move next to learn how employee monitoring software helps you measure the performance of your remote teams and how you get actionable insights into whether they're on the right track or what motivation they need to accelerate productivity:
Read More : How to Ensure Ethical Use of Employee Monitoring Software
What actionable insights you need from employee monitoring
Live Tracking
Measure the work patterns of remote teams with real-time monitoring to know what teams have logged into work, what teams are active or idle, and what teams are using aux or break time. Even you can track what teams are not available on any workday.
Activity Monitoring
Track every single activity of remote teams to measure how they spend the day at work. Know when they log into work, when they are active, when they go idle, when they use aux time, or when they perform what tasks.
Time Tracking
Monitor when remote teams log in to work and what idle, break, or aux time they spend, also when they log out, and what total hours they work. Measure how efficiently teams work and what teams need help to optimize their work hours.
App & Web Usage
Track what apps and websites remote teams access and label them based on their categories to identify what productive and unproductive hours remote teams spend.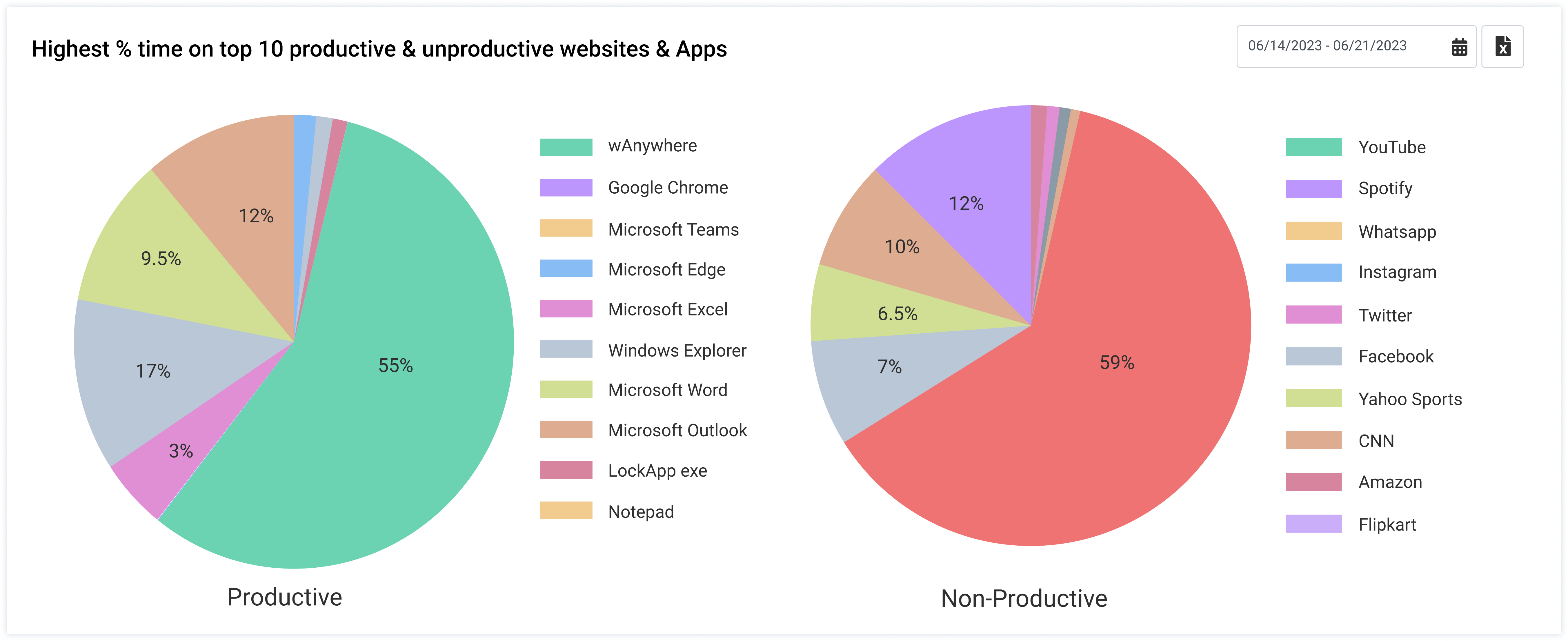 Read More: 5 Effective Ways to Boost Productivity for Your Remote Teams
Productivity monitoring
With employee monitoring software, get a comprehensive productivity dashboard to visualize how remote teams work, analyze their work hour summary, and measure their productivity stats to estimate overall productivity achieved.
Location Tracking
Monitor the locations of your field teams and know where they do what work. Track when they enter the job location, what tasks they perform, what break or idle time teams spend, and when they leave the job site to estimate their total work hours for accurate billing.
Screenshots
Capture screens of remote teams to know what tasks they do at what time, what computer activities they perform, and what unproductive websites they visit, also get proof of work to know what productive hours they spend to estimate exact workhour-based billing.
Security & Compliance
Track how remote teams behave and identify what their actions can lead to data and security risks in distributed work. Automate actions against risky team behavior and ensure compliance with business policy or standard regulations.
Now let's learn the important factors you should look for before deciding on the right employee monitoring software:
What factors you should look for in a monitoring software
AI-powered monitoring
Define productivity and security metrics against activities of remote teams to automate actions if employee expectations from the organization are not met. AI-enabled employee monitoring software helps you define actions and control productive, compliant work in a distributed environment.
Productivity analytics
Track every action of remote teams and visualize what productivity they achieve. A capable employee monitoring software enables you to view and analyze productivity parameters with a detailed dashboard and measure how remote teams perform and what support they need to improve performance.
Read More: Improving Employee Productivity with Effective Monitoring Software Solutions
Clean desk compliance
Set security metrics against risky employee behavior and control compliance for data privacy in remote work. An effective employee monitoring tool with AI-enabled risky behavior detection and violation control helps ensure clean desk policy and data compliance in distributed work.
GPS-based location tracking
Track your field teams, their work, and productive hours. An eligible employee monitoring software provides you ease with accurate monitoring of where your teams work and with what productivity to calculate exact billing hours and avoid conflicts.
Actionable insights
With an intuitive dashboard, you get a clear picture of how your remote teams perform and what progress they made to achieve business goals. An employee monitoring software helps you gain the capability to drill down into the performance of your remote teams and find out how efficiently they work, and what encouragement they need to do more productive work.
Visualization and reporting
Analyze employee performance with a comprehensive dashboard and get activity details with downloadable reports in Excel, PDF, or CSV format. By preferring one of the leading employee monitor software, you get highly workable data to measure teams' performance and align their efforts to achieve more.
Gain a clear picture of how remote teams work and with what productivity. Keep the discussed points in consideration to find the right employee monitoring software. To further discuss, feel free to contact us today to get assistance in finding an eligible monitoring tool for your distributed teams.