Table of Contents
What is Performance Management System
What is Performance Management System – Let's understand this frequently asked question in simple terms; Performance management is the process of identifying, measuring, and improving employee productivity in an organization. A performance management system is a strategic approach to evaluate and enhance the effectiveness of your teams in achieving organizational goals.
Here, the wAnywhere productivity monitoring software helps the concerned organizations with effective performance management and allows them a capable platform to set goals, track progress, and provide feedback. The platform enables organizations to implement a reliable performance management process and measure employee productivity against defined performance parameters to track progress toward achieving business goals.
Why is Performance Management Important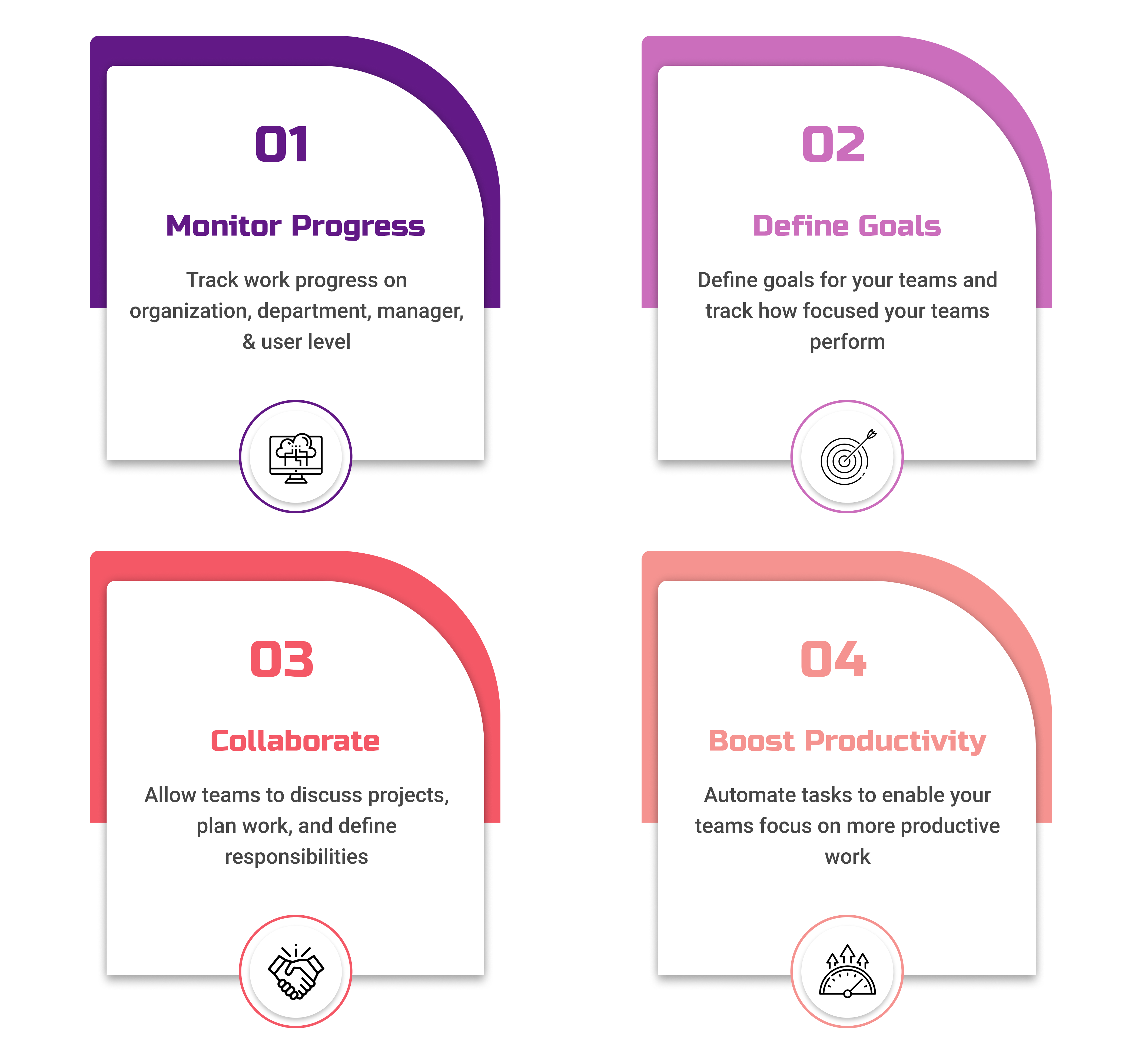 Read More: Ensure Productivity and Compliance in Remote Work with wAnywhere
Performance management is vital to ensure that your employees meet the expectations of their roles and contribute to overall business success. With the capable wAnywhere employee productivity monitoring platform, performance management becomes even more effective as you can track and improve employee productivity remotely. It helps you overcome the limitation of not being able to present in person to supervise how your teams perform or what help they need to do more productive work. When organizations become able to manage performance, they can better ensure that their teams are doing efficient work even in a distributed work environment. It results in improving employee productivity, boosting morale, and fostering a positive work culture.
Also, wAnywhere employee monitoring software provides several productivity-enhancing apps to aid organizations in optimizing their teams' performance. These productivity-focused apps allow organizations to support their workforce with the needed tools and resources so they can collaborate, engage, track work progress, create timesheets, secure documents, brainstorm with the team, and add notes. wAnywhere is well equipped with vital monitoring, productivity, and security features to help organizations ensure that their teams are focused on work and performing towards achieving business objectives.
Benefits of Using wAnywhere for Team Performance Management
The employee monitoring software supports organizations with employee-activity-based productivity analytics to help them measure what teams perform and what teams need help to improve. Let's know a few key benefits of performance management with wAnywhere:
Monitor Team Progress: wAnywhere desktop monitoring tool enables you to track the work progress on the organization, department, manager, and user level so you can identify the areas where your teams need support or resources to boost performance.
Define Goals: wAnywhere allows you to define goals for your teams and helps you track how focused your teams perform to meet them. It enables you to measure whether your team works distracted or motivated to keep them performing in the right direction.
Communicate and Collaborate: wAnywhere provides collaboration tools to allow organizations to communicate in a controlled and productive virtual environment so their teams can better discuss projects, plan the work, and measure the progress.
Automate Tasks: wAnywhere helps your teams to automate tasks like filling timesheets, getting employee activity-based reports, tracking employee hours, and more to enable you and your teams to focus on more productive work.
Read More: Importance of workforce analytics in remote workplace
Let's learn a few effective practices for Team Performance Management:
Best Practices for Effective Team Performance Management
Define roles, responsibilities, and expectations for team members
Set measurable and achievable goals
Provide support and feedback to your teams
Review regularly and adjust goals if needed
Utilize wAnywhere to track and manage performance
Promote a positive and productive work environment
Encourage open communication and two-way feedback
Recognize and reward top performance to motivate teams
Analyze performance and the need for improvement
Team performance management plays a crucial role in identifying how your distributed teams work and with what productivity. Here, the advanced wAnywhere productivity monitoring platform supports concerned organizations by enabling them to define performance parameters and track teams' performance. Once you know what teams perform, you can encourage them for better performance – or, if they lack, you can support them to improve and achieve more.