Table of Contents
Organizations with remote teams face challenges from maintaining employee productivity to security and compliance at the distributed workplace. However, by following the effective ways, concerned organizations can find the right solutions to overcome the challenges arising from remote work.
Let's discuss the remote work challenges organizations struggle along with their effective solutions to operate successfully in remote work: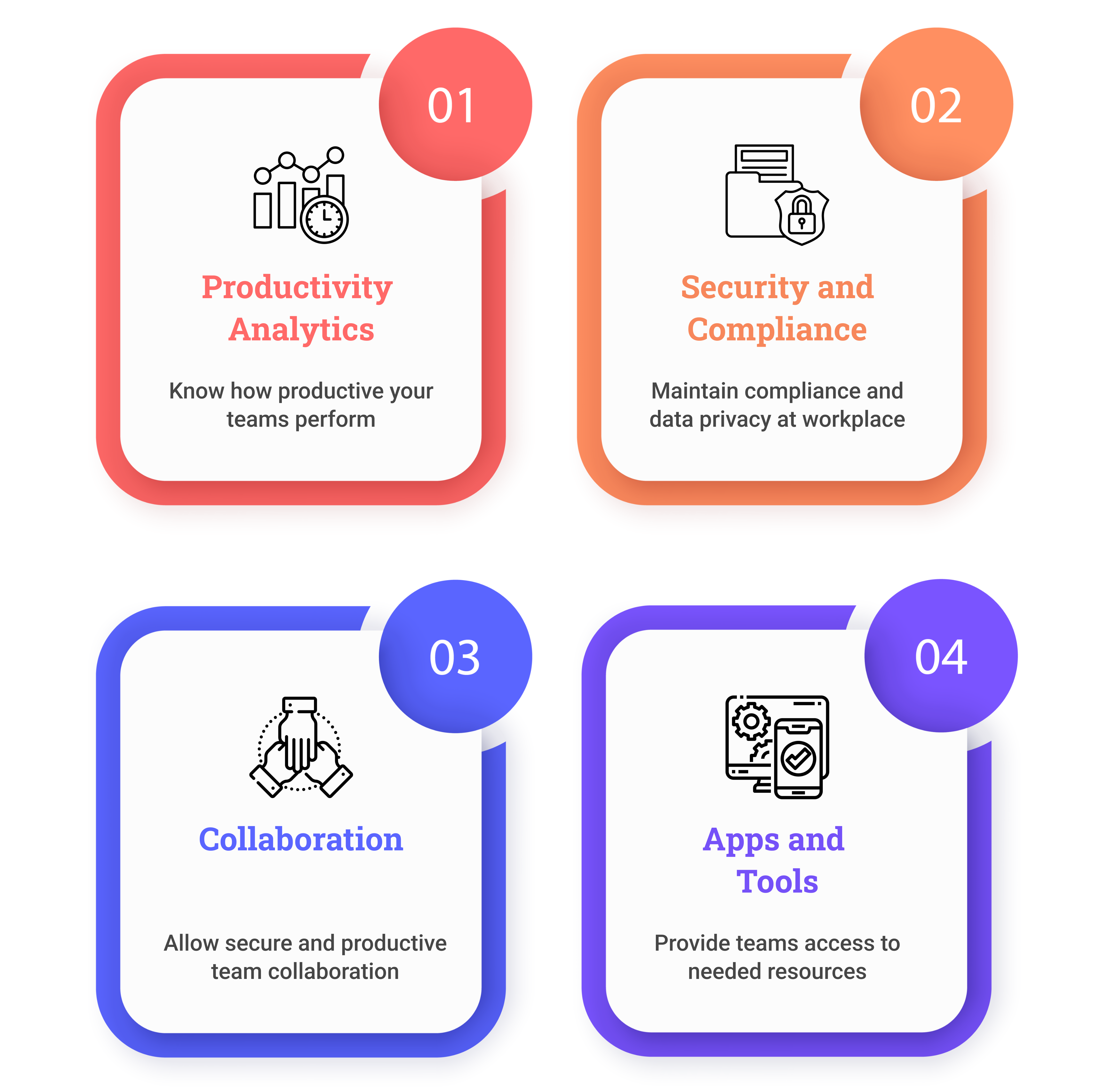 Maintain Employee Productivity
Remote teams are tricky to measure how they work and with what productivity. Managers can't know what task they do and at what time to learn about their work patterns and performance. It could result in time wastage, delayed work, low performance, reduced employee productivity, and inefficient business operations in remote work.
Solution: Employee Productivity Analytics
An effective employee monitoring software enables you to get real-time tracking of how your teams work and what tasks they perform at what time to measure their productivity. Managers can know what Break, Aux, and Idle time their remote teams use, and what Active Time they spend to analyze their overall productivity.
Additionally, the monitoring tool enables managers to gain actionable insights with the Productivity Dashboard, also it provides detailed Productivity Reports to learn how teams perform and what improvements they need.
Ensure Security and Compliance at the Workplace
Remote teams work in an unmonitored and flexible environment and managers can't know what compliance with business policy and data privacy they follow to ensure secure business operations in remote work. Also, measuring remote teams' behavior in remote work is equally important to predict and control risky actions.
Read More: 7 Most Pressing Challenges and Solutions for BPOs in Remote Work
Solution: AI-Enabled Violation Detections
Enabling AI-based violation detections with employee monitoring software, managers can get real-time alerts against Employee Not at the Desk, Unknown Person at the Desk, or Multiple Persons around the Workplace, and Mobile Use at Work to negate unauthorized data exposure or violation instances. Also, managers can ensure only authorized person get access to business resources with Face Recognition feature from security and compliance monitoring tool to ensure Clean Desk/business policy and Data Privacy.
Communication and Collaboration
Teams working in the distributed environment get limited opportunities to collaborate with remote members. Organizations struggle to allow a secure and productive virtual space for them to discuss work and share documents.
Solution: Connect and Chat Apps
Here, capable employee monitoring software empowers organizations with Connect and Chat collaboration apps and tools to enable their remotely located teams to interact in a secure, productive, and controlled virtual environment to create meetings, discuss work, or share documents.
Avoid Distractions in Remote Work
Remote work can cause distractions and make teams struggle to focus – which can lead to low employee efficiency and productivity. How can managers remind remote teams of KPIs and business goals to maintain employee performance?
Solution: Employee Efficiency Tracking
Get help from an employee monitoring software to define KPIs for your remote teams to measure what teams perform towards business goals and what teams lack in performance. Alert and support low-performing teams to improve work efficiency and better align their performance towards business goals.
Manage Employee Wellness
Organizations can't know which remote teams are overburdened or working for continuous hours to meet the project timeline – it can lead to employee burnout and low productivity at the workplace. How can managers balance employee workload in remote work and negate employee burnout?
Solution: Gamified Leaderboard and WaterCooler
Managers can benefit from the time-tracking feature of employee monitoring software to define continuous work hours for employee wellness and track if they work longer without breaks to alert them of breaks and avoid burnout. Also, the WaterCooler feature from the monitoring tool helps managers allow remote teams to connect in a flexible virtual space for casual collaboration. The Gamified Leaderboard feature encourages a competitive and productive work environment by recognizing and rewarding top performers.
Access to Needed Resources
In distributed work, remote teams need more resources to perform productive work. How can managers know what apps and tools they are looking for and how to allow them the needed resources to perform efficiently?
Solution: Productivity-Enhancing Apps and Tools
Productivity-enhancing apps that come integrated with effective employee monitoring software enable managers to allow remote teams access to the needed resources and help them improve their work efficiency. A few notable apps include Vault for safe doc storage and sharing – Note to create draft and meeting points – Timesheet to automate employee work hours estimation and billing, and more.
Get your remote work a success with productive distributed teams and secure business operations. Know how employee monitoring software helps organizations efficiently manage remote teams and control productivity and security in distributed work.