Table of Contents
Today's growing competitive work environment pushes employees to the limits and can become the reason for their disengagement from work leading to low productivity. Organizations aspiring to create a productive work environment need to check in with their teams not only for work but also for the challenges they face to help them overcome and perform with maximum potential.
Let's understand the factors that disrupt employee productivity at the workplace with the solutions to manage them and help boost employee performance:
Factors that impact employee productivity at the workplace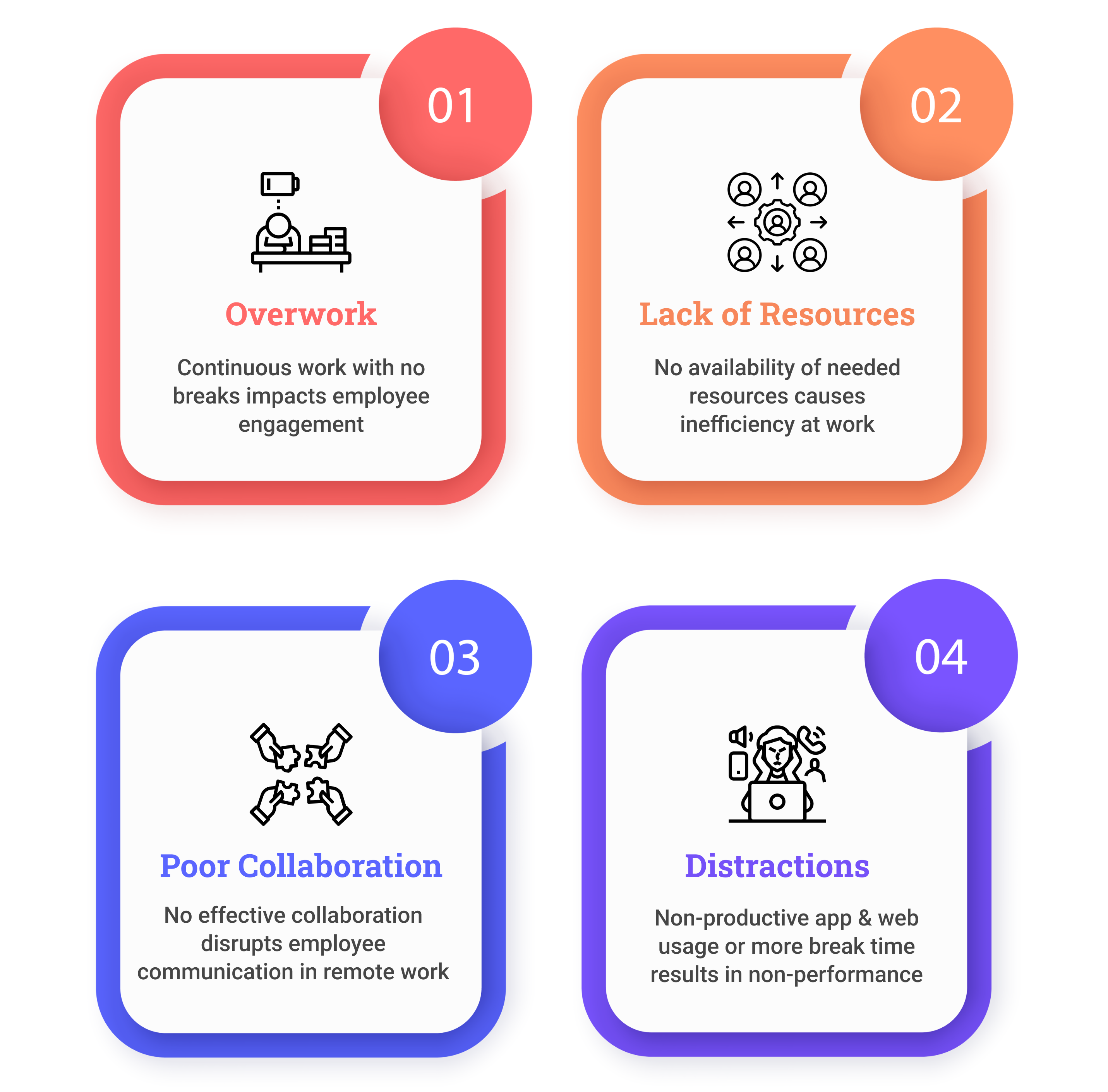 Read More: How a time tracker can help overcome workplace challenges
Workload and overwork
Employees with workloads beyond their capability get forced to overwork which disturbs their work-life balance. With employees stretching work hours to meet the project timeline, they often continue to work for hours without breaks and put their well-being at risk. The outcome results in less quality work, demanding more reviews to meet the standards, and low employee morale.
Get the solution with employee utilization and workload balance
Measure employee utilization to find out what employees are overworking and what employees have the bandwidth to manage more work. Help balance the workload to ease the burden on overutilized employees and distribute work to encourage more productivity at work.
Poor employee engagement
Employees may struggle at work to meet the expected work standards. The leading reasons can be a lack of skills and training needs that cause inefficiency at work. The nearing project timeline and employees not being able to deliver work on time get disengaged from work. It all results in an impact on work quality and employee efficiency.
Get the solution with live activity tracking and evaluating employee performance
Identify what employees do what activities at what time and evaluate how it impacts their performance based on their productive hours. Find out what employees use frequent break time or spend more time being idle. Detect non-productive app and web usage of your teams to measure what employees are struggling with engagement at work and support them for more productive performance.
No recognition
Motivation works as fuel for employees to drive more productive work. The reverse of it brings down their morale to perform. The more their performance goes unnoticed, the more they grow non-productive at work. The team being not motivated performs inefficiently and can't meet defined business goals.
Get the solution with a leaderboard and performance-based achievement badges
Recognize top performers based on their productivity and rank them on a leaderboard. Tag achievement badges to address their exceptional efforts and encourage them to do more productive work. Employees being motivated feel encouraged to outperform and achieve defined business goals fast reflecting enhanced efficiency at work.
Read More : Employee Monitoring in the Modern Workplace
Lack of resources
Employees with needed resources made available perform tasks fast reflecting enhanced work efficiency. The contrast of it leaves them struggling to meet the work standards and expected performance level. Find what support your teams need and identify how you can extend assistance to enable them to perform with improved productivity.
Get the solution with apps and tools and find training opportunities for your teams
Evaluate team performance and analyze what employees reflect better productivity and what employees lack in productive work. Support them with performance-boosting apps and tools and find training opportunities for them to meet the expected work standards.
Distractions at work
Distracted teams get less time to focus on work and struggle to deliver quality work. Employees in remote work face this issue often and need support to overcome work inefficiencies and maintain productive work. Employees with fewer distractions reflect greater work performance.
Get the solution by identifying exceeding break and idle time to optimize work hours
Identify what teams use frequent idle and break time and what teams exceed their non-active time to measure what their productive hours are. Find out what non-productive applications and websites teams visit at work to assess their inefficient hours and control non-performance in remote, hybrid, and office work environments.
Poor collaboration
Employees working in distributed work need a secure and controlled environment to collaborate with their teams. An effective collaboration helps them discuss work, plan strategies, and review work progress. In the reverse case, teams stay unaware of the work progress, the support needed, and the productivity achieved to know how teams perform at work.
Get the solution by allowing a secure and controlled collaboration for your distributed teams
Allow your distributed teams an effective collaboration to create meetings, share docs, and control team interactions to discuss, plan, or review work. With remote employees knowing secure team collaboration when needed, their work efficiency gets boosted, and they feel encouraged to perform more productive work.
How productivity monitoring software can help
When you know what teams perform and what teams need support to improve performance, you can timely check in to help and avoid factors that can cause inefficiency at work. Start a free trial today to learn how a capable tool for productivity monitoring can enable you to find out and eliminate non-productive factors for your remote and hybrid teams to perform with the fullest capability.